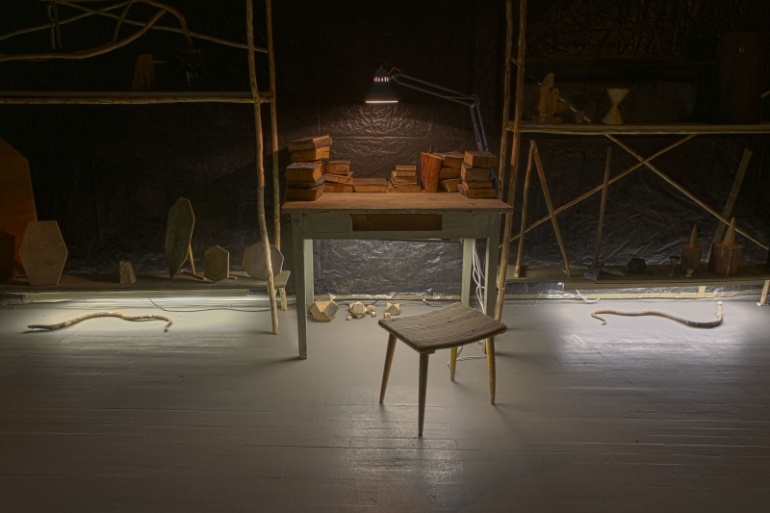 In the work of Žilvinas Landzbergas (born 1979), the importance of material, colour and light, and the references presented in them, combine to form an indivisible conceptual piece. In his early work, materials are treated as references to social contexts, and the objects-things created from the materials create social portraits. Landzbergas's installations transform spaces into situations with their own time and place, where connections between different elements are created according to the logic of tales: the linear narrative is replaced by links of transitions and references that do not provide definitive answers. He also weaves his personal experiences, which remain inaccessible to the viewer, into reflections on and criticism of social and historical contexts in his work.
In his later work, where conceptual continuity is particularly important, Landzbergas turns to mythical thought, the demiurgic – conceptually creative – origins, by contemplating their presence in contemporary consumer culture. And so cheap, unstable materials, and synthetic colours that introduce elements of kitsch into the general structure of his work are found alongside objects created from natural materials like wood that bespeak an unattainable moment of mythical thought. The mysterious and even sometimes nihilistic mood of Landzbergas's work is always accompanied by subtle humour and irony, characteristic of postmodern thought.
Landzbergas studied sculpture at the Vilnius Academy of Arts. From 2005 to 2007 he participated in the De Ateliers postgraduate artists' residency in Amsterdam. In 2017, he represented Lithuania at the 57th Venice Biennale.  Landzbergas has had solo exhibitions at institutions such as the Contemporary Art Centre in Vilnius and Modern Art Oxford in the United Kingdom. His work has been exhibited at international group shows at the Zentrum Paul Klee in Bern, the Liverpool Biennial, and De Hallen Haarlem.
Galerie Fons Velters, Amsterdam