Season of Lithuania in France 2024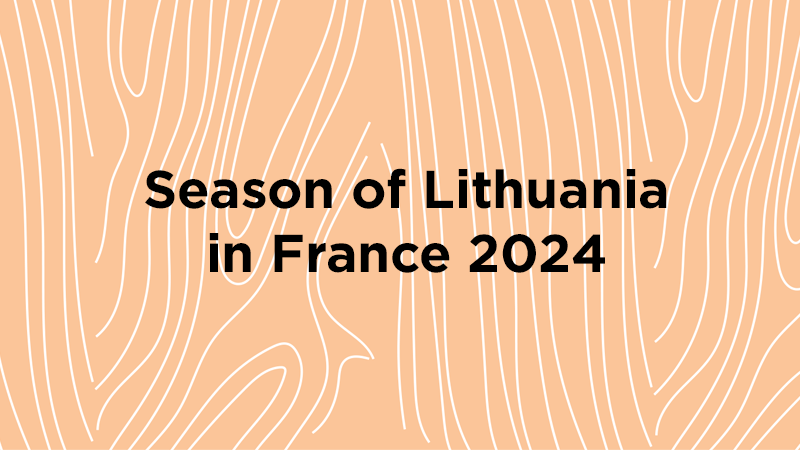 WHEN: 12th September to 12th December 2024 
WHERE: France 
GENERAL COMMISSIONER: Dr. Virginija Vitkienė (Lithuania), PHD in Art History and Criticism, curator of contemporary art exhibitions (2004-2022), artistic director of Kaunas Biennial (2009-2017), CEO of Kaunas 2022 – European Capital of Culture (2018-2022).  
IMPLEMENTED BY:  
Lithuanian Culture Institute, operator of the Ministry of Culture of the Republic of Lithuania;

 

French Institute, operator of the Ministry for Europe and Foreign Affairs and the Ministry of Culture for the foreign cultural policy of France.

 
Open Call for Project Ideas for
The Season of Lithuania in France 2024
The Lithuanian Culture Institute invites Lithuanian cultural institutions and organisations to propose ideas for projects, events and activities as part of The Season of Lithuania in France 2024, which will take place between 12 September and 12 December 2024. The open call is only suitable for projects planned in France within this period. Artists are recommended to apply through organization; exceptions can be pre-discussed with the Lithuanian Culture Institute.  
Proposals must align conceptually with the Concept Note (outlining the overarching vision and principles of the Season) and criteria outlined below. They should include partner institution(s) in France, or express your plans for establishing a partnership within a specific sector and/or art field in France. 
Organization must submit one form per idea. It is not recommended to exceed three applications per organisation.  
Ideas submitted must meet majority of these criteria: 
to increase visibility and awareness of contemporary Lithuanian culture within French audiences.

to reinforce, and invigorate values relevant to Europe's present and future: human dignity, freedom, democracy, equality, human rights, and climate resilience.

to co-create a project together with a French partner(s), addressing common history, shared culture and values of Lithuanian and French people.

to seek long lasting partnerships and collaborations between French and Lithuanian institutions and professionals.

to address and include various audiences, with a focus on young people.
Ideas must fit in with at least one of the topics, presented in Concept Note, namely, Global Neighborhoods, Empowered Identities, and Unleashed Imagination 
For Lithuanian organizations, the project idea form can be found here.
Information on the call for ideas and the idea proposal form for French organisations are published at the website of the Institut français.
A Project Idea Proposal must be submitted by 10th of April, 2023 and include: 
– Name of organization 
– A short presentation of your organization (+ contacts) 
– The name of the French partner organization (+ contacts) or your plans for establishing a partnership with the French organisation within specific field 
– The French city / region where project will take place 
– The title of the project 
– The main disciplinary field to which your project relates 
– Other potential disciplinary fields your project relates to 
– The dates of your project (your project must take place between 12 September and 12 December 2024) 
– A description of your project idea  
– A description of the references of your project to the Concept Note and how it meets the criterias specified above 
– A description of the technical details of the project (preparation, implementation, main involved professionals and artists, services needed, amount of participants, specific technical needs, etc.) 
– The expected long-term impact of the project 
– The estimated budget of the developed project: a) up to 20.000 Eur; b) up to 50.000 Eur; c) up to 100.000 eur; d) Other. 
Based on this information, and providing your idea meets the criteria specified above, the General Commissioner will invite successful applicants to formally submit a Project Submission Form via an online platform from mid-May 2023.  This will include a detailed description of the project; a provisional budget for your project, with balanced revenue and expenditure; an audience outreach strategy; and a communication strategy.  
This project will then be presented at one of the Joint Selection Committee (see schedule below), which will decide on approval. 
PROVISIONAL SCHEDULE (2023-2024) 
10th February – 10th April 2023




Open call for project ideas is launched

Mid-May 2023




Pre-selection of ideas




Project Submission Form opens online for applicants selected via the open call to submit further information

 

 

Mid-May – beginning of September 2023




Submission of applications

October 2023




Selection committee decisions

November 2023




Accreditation of projects




Notification on financial funding

 

December 2023 – January 2024




Contracts issued 

 

January – August 2024




Preparation steps according to the Project's time schedules and the tasks of Commissioner (such as preparatory texts, communication steps, etc.)

March 2024




Second meeting of the Selection Committee (if required), accreditation of projects




Final approval of the programe

 

12th September – 12th December 2024




Implementation of the programme 
Please note that the online Project Submission Form will be sent to you by the Lithuanian Culture Institute if your preliminary project idea is pre-selected following the open call. 
The Institut français will also ask your French partner to submit an approval request via the same online platform.  
Contacts 
For the administrative questions or for content consultations please contact the Lithuanian Culture Institute: sezonas2024@lithuanianculture.lt