Litauische Kultur in Bayern 2021 news, News
ARTURAS BUMŠTEINAS' PERFORMANCE OF BAROQUE THEATRE NOISE MACHINES PRESENTED IN MUNICH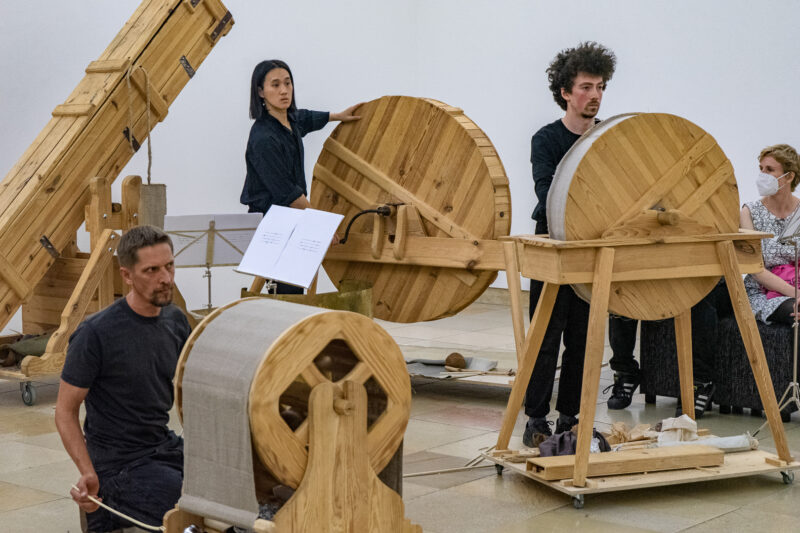 "This work is like a cloud – different every time," said sound artist Arturas Bumšteinas before his performance of baroque theatre noise machines titled Navigations (from Bad Weather series) that took place on 10 September at the Haus der Kunst modern and contemporary art museum in Munich. The performance was shown in the two connecting halls of the museum in order to observe the distance between spectators, as well as between spectators and the vocalist.
While the machines, through performing artists (musicians? Puppeteers?), were telling the audience about the Baroque and the present, about noise and silence, actual clouds gathered over the clear summer Munich sky, and at the end of the performance, the audience found it challenging to distinguish the sounds of theatrical rain from actual rain pattering against the mesmerisingly hight vaults of the Haus der Kunst.
Immediately after its premiere, this performance by Arturas Bumšteinas attracted the attention of not only Lithuanian but also foreign audiences. It brought the artist the Boris Dauguvietis Earring at the Golden Stage Cross Awards. In 2020, it was awarded the international prize Carapelli for Art.
On 11 September, the duo Eye Gymnastics (Gailė Griciūtė and Viktorija Damerell) and their work Nothing Supernatural ended the series of Lithuanian performances Atmospherics at the largest museum in Munich.