Exhibition in India – Children's Book Illustration in Soviet Lithuania (1940-1990): A Journey in Time and Context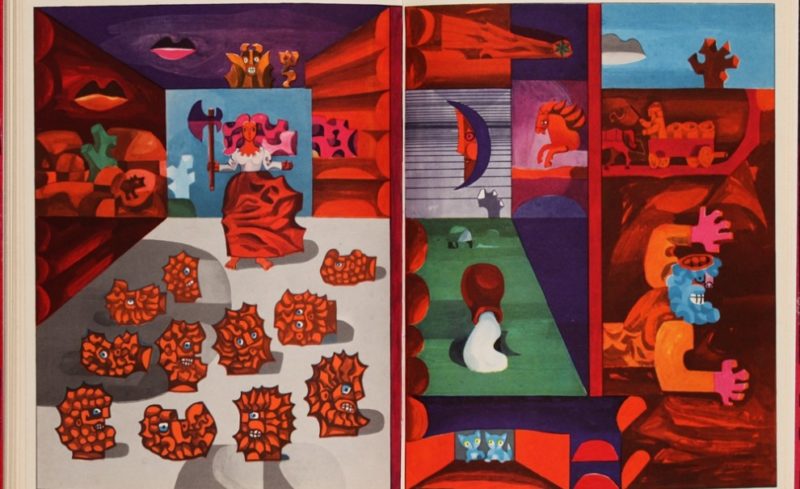 Together with Indian publisher Tara Books, the Lithuanian Culture Institute presents the art of Lithuanian children's book illustration in the city of Chennai.
On 25 July, the exhibition titled "Children's Book Illustration (1940-1990): A Journey in Time and Context" was opened in the Book Building artistic, publishing and residential centre belonging to Tara Books. The exhibition featured several dozen works by Lithuanian book illustrators.
Visitors can continue viewing the exhibition until 15 July.
This exhibition was organized by the Lithuanian Culture Institute and Tara Books thanks to massive interest generated by a previous exhibition titled "Illustratium: Soviet Lithuanian Children's Book Illustration."
It was exhibited at the world's largest children's book fair in Bologna in 2011, when Lithuania was the fair's guest of honour.
Later, in 2012, this collection of illustrations was presented to visitors at the International Youth Library in Munich.
The curators of the exhibition, G.Jankevičiūtė and J.Liškevičienė, revealed the general context of children's book publishing in Lithuania during the 1960-1990 period. They also presented illustrations by the most prominent artists of that period: Algirdas Steponavičius, Birutė Žilytė, Stasys Eidrigevičius, Kęstutis Kasparavičius, Lidija Glinskienė, Aspazija Surgailienė, and many others.
Tara Books is a globally recognized book publisher. At the 2013 Bologna Book Fair, it won the Best Children's Book Publishers Award for Asia, and at last year's London Book Fair it won the International Publishing Industry Excellence Award.
Representatives of Tara Books were introduced to the works displayed at the exhibition in 2011 – they were immediately interested in bringing this Lithuanian exhibition to India.
During last year's Bologna Book Fair, Rūta Nanartavičiūtė, project leader of the Lithuanian Cultural Institute,   together with book illustrator Sigutė Chlebinskaitė, discussed ideas for a future exhibition with representatives of Tara Books and agreed on a plan for its joint implementation.
The works displayed at the exhibition in Chennai revealed several things: the ideas instilled in children by illustrated books and the manner in which they served to propagate communist ideas; the extent to which children could live in a childish world of stories, adventures, and imaginings; and, the opportunities available for self-expression by book illustrators.
The exhibition of illustrations from Lithuanian books was supplemented with items from publisher Tara Books' collection of book images from the second half of the twentieth century as well as a great many insights.
They presented the Indian context in a comprehensive manner and demonstrated the publisher's goal of researching the global culture and history of book design.
Illustration: Birutė Žilytė's illustration for Aldona Liobytė's book, Pasaka apie narsią Vilniaus mergelę ir galvažudį Žaliabarzdį (A tale about Greenbeard the Killer and a Courageous Girl from Vilnius), Vilnius: Vaga, 1970.