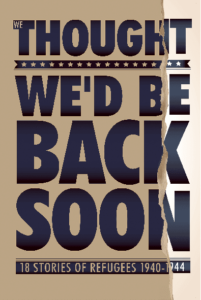 HISTORY AND BIOGRAPHY
Thought we'd be back soon. 18 stories of refugees, 1940—1944 (Manėm, kad greit grįšim. 18 pokalbių apie pasitraukimą į Vakarus 1940–1944), selected and edited by Dalia Stakė Anysas, Dalia Cidzikaitė, Laima Petrauskas Vanderstoep, Vilnius: Aukso žuvys, 2017, 381 pp.
What have you lost by leaving Lithuania? I'll tell you this: that country and that land still calls out to me. I regret losing those beautiful days with my family… (Joana Krutulienė) Eighteen conversations with US Lithuanians, who were forced to leave Lithuania during the Second World War and escape to the West from an advancing Soviet front and the threat of deportation. These exceptionally open and often painful conversations reveal the reasons why they fled to the West, their lives in Displaced Persons (DP) camps in Germany, the circumstances under which they reached the US, and how they settled there and created new lives. None of them expected to stay in the US for more than a few months and were certain they would soon return to Lithuania – hence the title of the book.
Dalia Stakė Anysienė and Laima Petrauskas Vanderstoep are the second-generation offspring of so-called DP (dipukai), Lithuanian emigrants. Dalia Cidzikaitė taught literature at the University of Illinois in Chicago and was the chief editor of the Lithuanian community daily paper "Draugas" ("Friend") between 2007 and 2013.