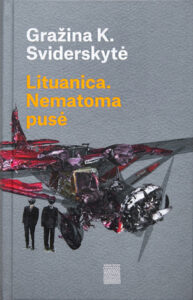 HISTORY AND BIOGRAPHY
Gražina Sviderskytė, Lituanica. The Unheard Side of the Story (Lituanica.  Nematoma pusė), Vilnius: Aukso žuvys, 2019, 455 pp.
Eighty years after the event, this is the first comprehensive analysis of the legendary Darius' and Girėnas' flight across the Atlantic Ocean – probably the most famous episode in the history of Lithuanian aviation.     It was meant to be one of the most glorious events in Lithuanian history. How-ever, the Lithuanian American pilots Darius and Girėnas took off from New York on 15th June 1933, never to reach the temporary Lithuanian capital Kaunas. Their death near Soldin in Germany has always been surrounded by legends and conspiracy theories, the story always manipulated by different regimes through-out the epochs. Gražina Sviderskytė researches the circumstances, context and the reception of this legendary flight, in an attempt to bust the myths and shine a light on Darius' and Girėnas' triple destiny of death, glory and consignment to oblivion. We are able finally to find out what really happened in the Soldin forest in July of 1933. Did the plane Lituanica crash because it was shot down?
Gražina Sviderskytė is a journalist, author of several books and multiple documentary films, who has been awarded some of the highest professional prizes in Lithuania and abroad. "Lituanica. Nematoma pusė" (Lituanica. The Unheard Side of the Story) is her first monograph.