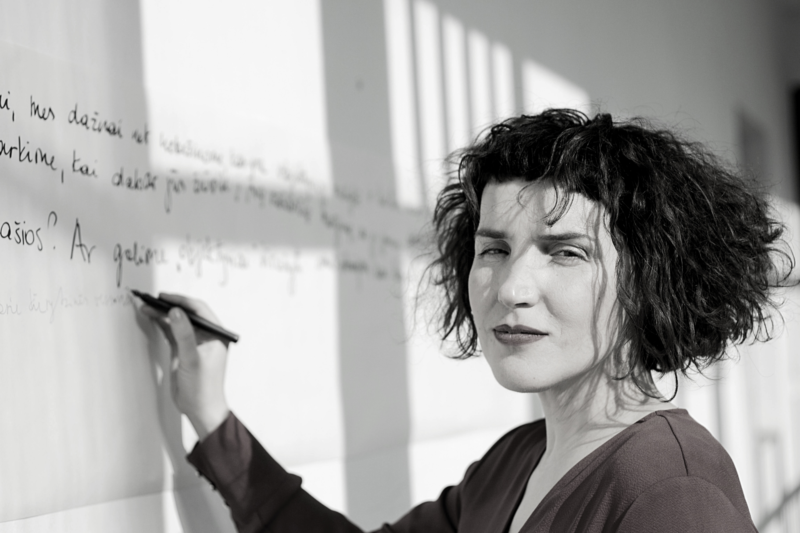 The playwright and writer Gabrielė Labanauskaitė (b. 1980) writes dramatic works for Lithuanian and foreign theatres and various interdisciplinary art projects. In 2017, she wrote a book Dramatika (Dramatics), which was published by the Lithuanian Academy of Music and Theatre. It is the first Lithuanian book to briefly present the development of drama and explore the construction of dramatic narrative. 
Labanauskaitė is a team player – she thinks of the team and communicates with its members when writing her plays. Her plays are open to contemporary life – the author is looking for relevant topics which are also important to herself. One of these topics is support for the LGBT (lesbian, gay, bisexual, and transgender) community and the introduction of their problems to society. Labanauskaitė has won a number of awards in Lithuania as well as abroad. In 2011, her play Raudoni batraiščiai (Red Shoelaces) won the Versmė national drama competition and ran for a few years at the Lithuanian National Drama Theatre (directed by Yana Ross). The play was also included in the list of the hundred best European dramas of 2012. It was staged by the Spanish director Romeo Urbano in Madrid and went on to win more awards. Žalgirės (2017), another popular play by Labanauskaitė, is a feminist piece based on authentic stories of women from an LGBT amateur sports team. It was staged at National Kaunas Drama Theatre by the young director Vidas Bareikis. 
Red Shoelaces focuses on the state of being on the verge of nationalism, which is employed for neo-Nazi ideology and the justification of cruel crimes. The main conflict happens between two brothers – Juozas, who is a member of the Nazi movement and Jonas, a homosexual programmer whose destiny proves to be tragic.