News
JOURNALISTS FROM ITALY RETRACED THE STEPS OF JONAS MEKAS IN LITHUANIA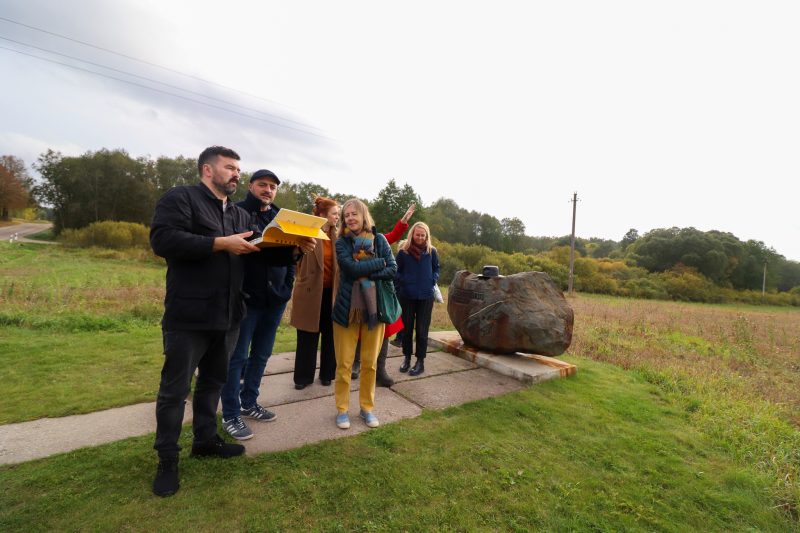 In order to discover the exceptional personality and creative path of Jonas Mekas in closer detail, on the occasion of the artist's centenary, several Italian journalists travelled to Lithuania where they visited the director's birthplace. This visit of representatives of Italian media channels was organised by the Lithuanian Culture Institute. It allowed the guests to learn more about Mekas, visit Vilnius, Biržai and Semeniškiai, and delve into the artist's creative legacy.
That was already the second visit of journalists interested in the international project Jonas Mekas 100!, dedicated to honouring the centenary of this avant-garde filmmaker, film critic, and poet, taking place throughout 2022. The international programme dedicated to the centenary of Jonas Mekas, comprising over 50 various events, has been prepared by the Lithuanian Culture Institute, the Lithuanian cultural attachés and the Estate of Jonas Mekas. Film screenings, exhibitions, video installations, concerts, poetry readings, discussion and thematic residency programmes, poetry translation workshops, publishing projects and other initiatives have been taking place in leading cultural institutions in many countries around the world. The programme is partially funded by the Ministry of Culture of the Republic of Lithuania. The Jonas Mekas 100! programme is available on the website www.jonasmekas100.com
Visiting Lithuania this time were Riccardo Conti, who writes about art and culture for Harper's Bazaar Italia, GQ Italia and Vogue Italia; Maria Adelaide Marchesoni, who was representing Il Sole 24 Ore; Agnieszka Gratza, who writes for Art Forum; and Lorenzo Balbi, partner of the project of Jonas Mekas' centenary celebrations.
During their short yet action-packed visit on 5-6 October, the guests went to Biržai, where they visited The Jonas and Adolfas Mekas Heritage Study Centre, located in the Biržai Castle. There, they met Indra Drevinskaitė, the centre's chief librarian, and Kęstutis Pikūnas, the compiler and publisher of the book Jonas ir Adolfas Mekai: gyvenimo lai(š)kai (Jonas & Adolfas Mekas. Letters Home). Guided by Drevinskaitė, journalists retraced the steps of Jonas Mekas on an excursion around Biržai. After returning from Biržai and visiting Jonas Mekas' hometown Semeniškiai, the guests headed to Meno avilys (Hive of Arts) in Vilnius where they met with the translator, writer, film critic and organiser of the Nepatogus Kinas (Inconvenient Films) festival Narius Kairys, after which, accompanied by Arūnas Gelūnas, the head of the Lithuanian National Museum of Art, they visited the Museum of the Radvilas Palace.
Having enjoyed closer acquaintance with Jonas Mekas, the guests returned to Italy, which is currently also hosting events dedicated to Jonas Mekas' centenary: on 9 November, Mekas' retrospective Images Are Real opened there.
Photo by Rūta Statulevičiūtė-Kaučikienė