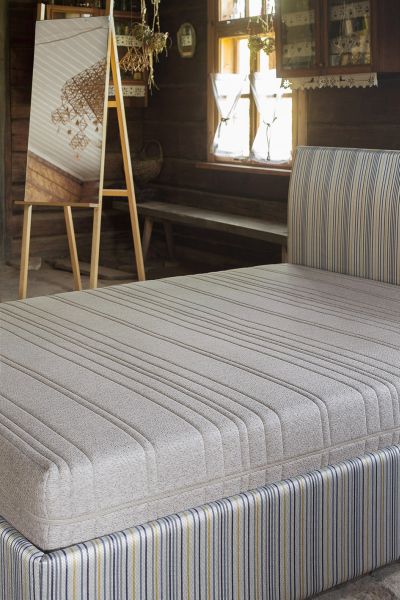 Mattress:  Silence from the collection Tricolour
Created: 2016
Manufacturer: UAB Lonas
The mattress collection Trispalvė / Tricolour is Rasa Balaišė's (born 1967) latest project in industrial design, created in cooperation with the Lithuanian firm LONAS known for its commitment to family values and traditions. The firm's manufacturing process is highly personalized; only one mattress at a time is made. For this actively creative designer this experience naturally merged into one of the primary themes of her creative activity, searching for symbols of Lithuanian or Baltic identity, and meaningful and playful ways of incorporating them into everyday objects: be it a weaving pattern, a lighting fixture or a ring to adorn a hand.
Designer Rasa Balaišė completed her master's in the Department of Design at the Vilnius Academy of Arts in 1993. She has worked as an independent industrial, furniture, interior and accessories designer since 2000. In creating various projects, the designer aims for multifunctionality and emotionally uplifting effects, and the objects she creates are distinguished by their symbolism and sensitivity.  Since setting up her own design studio, RASA deSIGN, in 2004, Balaišė has actively participated in local and international design exhibitions, received a whole host of local and international awards, including the PRIX du Public for her chair Mama in 2006 (France), a gold medal for her children's mattress Loniukas in 2016 (manufactured by Lonas), and first place in the competition Art for the Well-Being of People with her wall décor project for Vilnius University Hospital Santaros Klinikos in 2014.