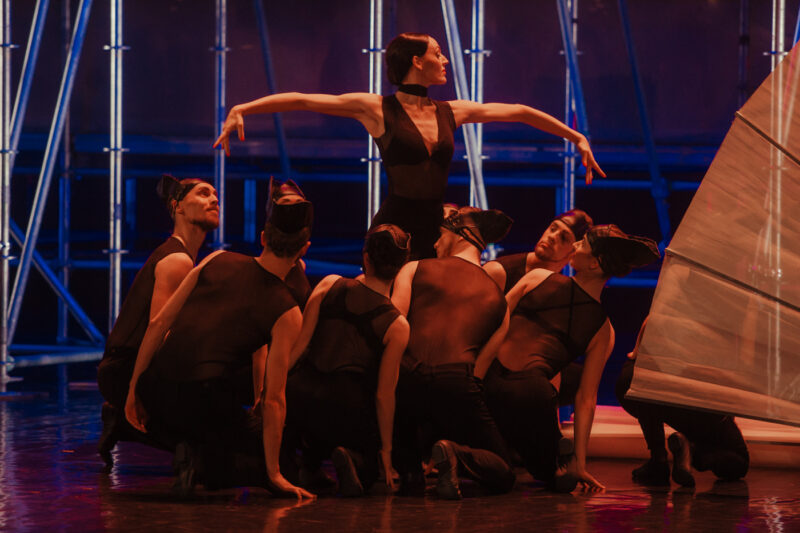 Aušra Krasauskaitė (b. 1987), a ballerina, contemporary dance dancer, choreographer and educator living and working in the port city of Klaipėda, combines two closely distant worlds in her work – ballet and contemporary dance.
Krasauskaitė studied and graduated from the ballet department of the National M. K. Čiurlionis School of Art, where she obtained a diploma of a ballet artist in 2007. Later she studied choreography at the Faculty of Arts of Klaipeda University from which she obtained a Bachelor's degree in 2012, followed by a Master's degree in 2014.
Krasauskaitė made her debut on the professional ballet stage while still studying at the National M. K. Čiurlionis School of Art – between 1998–2007, she held an internship at the Lithuanian National Opera and Ballet Theatre. Since 2008, Krasauskaitė works and regularly acts at Klaipėda State Musical Theatre, and is a member of the independent Šeiko dance theatre troupe.
Krasauskaitė made her debut as a choreographer in 2013 and has so far created seven dance performances and compositions. She also creates choreography for drama and musical performances. In 2018, as a young artist, Krasauskaitė was awarded the highest Lithuanian theatre award – the Golden Cross of the Stage and the Klaipėda City theatre award The Mask of Gratitude (Padėkos kaukė).
In 2010, Krasauskaitė founded the Aušra Krasauskaitė ballet studio, and since 2015, she has been teaching at the Faculty of Arts of Klaipėda University.
Krasauskaitė's Karmen based on Georges Bizet's and Rodion Ščedrin's Carmen Suite was created at the Klaipėda State Musical Theatre in 2017. It stands out with an original interpretation and choreography. Framed by the elegant performance of Carmen on the conductor's podium, this performance is like a difficult memory that is painful to remember but is necessary to tell. The narrator of Krasauskaitė's performance is a conductor, and the orchestra not only accompanies the dancers but, positioned on the scaffolding, above the stage action, becomes a part of the story. Krasauskaitė offers a particularly unexpected and bold interpretation of the famous gipsy woman. On the stage, Karmen, embodied by Beata Molytė, does not stand on her toes but moves putting down the whole foot, and does not rattle the castanets about because she keeps her hands in her trouser pockets. She is independent, courageous, audacious, she makes resolute choices without the fear of consequences, and men in her life are mere circumstances. It was this work that earned the young choreographer the Golden Cross of the Stage in the debut/young artist category.
ausra7777@gmail.com