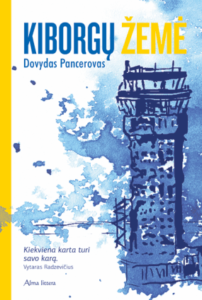 HISTORY AND BIOGRAPHY
Dovydas Pancerovas, The land of cyborgs: The story of Russia's war against Ukraine (Kiborgų žemė: pasakojimas apie Rusijos karą prieš Ukrainą), Vilnius: Alma littera, 2017, 255 pp.
Pancerovas' journalistic first-hand account from Ukraine, a country fighting for its freedom and territory in 2014, painfully illustrates what American historian Timothy Snyder described as its historical pivot from East to West. On 23rd January 2014 journalist Dovydas Pancerovas receives a phone call from the photographer Vidmantas Balkūnas: they buy tickets to Ukraine and the next day they are already witnessing the Ukrainian revolution close up. While this is the subject of the first part of the book, the second part takes us to the real war: the time after the annexation of Crimea and the war in Donbass. Reporting here is even more authentic, refined by experience at the front. The book is first and foremost a war diary, as Pancerovas is writing about what he sees, where he is and what he can hear. It is unique material, unaccompanied by grandiose and vain speeches by politicians. When Russia occupied Crimea, it seemed as if only the countries who had recently experienced Soviet occupation unequivocally knew that this was war, and a serious one at that.
Dovydas Pancerovas is a journalist at the Laisvės TV and one of the best investigative journalists in Lithuania. He has been awarded multiple prizes for his work, including the Peter Greste Freedom Of Speech Award in 2017. "Kiborgų žemė" (The Land of Cyborgs) is his first book.