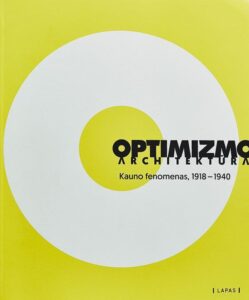 ARTS AND LITERATURE
Architecture of Optimism: The Kaunas phenomenon, 1918—1940 (Optimizmo architektūra: Kauno fenomenas, 1918—1940), edited by Marija Drėmaitė, Vilnius: Lapas, in collaboration with the Lithuanian Unesco Commission, 2018. 292 pp.
The interwar period was full of miracles, and the optimistic history of modernization and architecture of Kaunas – the city that suddenly became the capital of Lithuania – was one of them.    In 1919, due to the political circumstances at the time, Kaunas became the temporary capital of the Republic of Lithuania and had to rise quickly to the challenge of transforming from the provincial stronghold of the former tsarist empire into a modern, elegant and European capital. Kaunas succeeded with this radical and swift transformation, making its history of modern architecture a story of success and optimism. Art and history researchers come together to explore this story from multiple angles, delving into the political, social, eco-nomic and cultural aspects of fast urbanization and modernization to show how architecture has created the city.
Marija Drėmaitė is a historian of architecture, Professor of History at Vilnius University, and author of "Baltic Modernism: Architecture and Housing in Soviet Lithuania" (English edition in 2017) and "Progreso meteoras. Modernizacija ir pramonės architektūra Lietuvoje 1920–1940 m." (The Meteor of Progress: Modernization and Industrial Architecture in Lithuania 1920–1940, 2016).