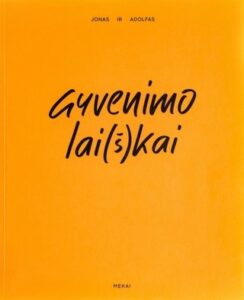 HISTORY AND BIOGRAPHY
Jonas and Adolfas Mekai, A Lifetime of Letters (Gyvenimo lai(š)kai), Vilnius: Post Scriptum. Littera, 2020, 320 pp.
This beautiful and somewhat mysterious book whose unedited pages contain a collection of letters that the famous brothers Jonas and Adolfas Mekas sent from America to Semeniškiai village, Buginiai post office, Biržai district, Lithuanian Soviet Socialist Republic. They were all addressed to the most important addressee of their lives – their mother, Elžbieta Mekienė. What does a family separated by war – two brothers on one side of the ocean, and their mother on the other – write to each other about? The Mekas brothers' letters, written between 1957 and 1995, and collected in this book, answer this question. Accompanied by a huge archive of photographs from the Mekas brothers' various life-stages, this book illustrates and contextualises their lives in the US as well as their visits to Lithuania in the 1970s. The brothers escaped to the West in 1944 and ended up in New York in 1949, where they walked the creative path together. With the world starting to transition from World War II into the Cold War, the Mekas brothers began writing letters to their mother, re-establishing a long-lost connection and dialogue with their family on the other side of the ocean. "A Lifetime of Letters" opens up two distinct dimensions of living in the free world, on the one hand, and in an occupied country, on the other. The letters are full of sincere and ever-present gratitude to their mother, the everyday observations of life in the States, and references to the Mekas brothers' creative process.
The Mekas brothers are probably the most famous Lithuanians of the second half of the 20th century. They both laid the ground for American avant-garde cinema, founded the magazine 'Film Culture', and participated in the Fluxus movement. Jonas Mekas was a film critic, maker of autobiographical documentary cinema, and a poet. Following his passion, he founded and developed Anthology Film Archives – 'one of the world's largest and most important repositories of avant-garde cinema, and a screening venue'. Adolfas Mekas was a writer, filmmaker and film director. His 1963 film 'Hallelujah the Hills' was shown at the Cannes film festival. Adolfas started teaching at the Bard College and later founded the Film Department there.