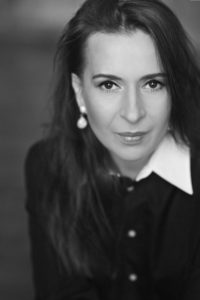 Kristina Sabaliauskaitė (born 1974) is the most widely read Lithuanian author (sales of her books run to hundreds of thousands of copies) and is well-received abroad. Her award winning four-part historical novel Silva Rerum is also a bestseller beyond Lithuania's borders, in Latvia and especially in Poland, where it has attracted the admiration of readers, exceptional reviews and was shortlisted for the final of the ANGELUS Central European Literary Prize in 2016. Sabaliauskaitė's work has attracted comparison with the great literary classics, though critics have at the same time emphasized that her prose is a phenomenon in its own right and a completely unique literary voice. Sabaliauskaitė has a PhD in art history and Baroque studies. For almost a decade she worked as a foreign correspondent in London and together with that experience she also brings a profound academic knowledge and a refined, rich, innovative literary language. Critics have remarked on the paradox that her prose is very intellectual and multilayered, yet her books are still mesmerising page-turner. 
Petro imperatorė (Peter's Empress). Vilnius: Baltos lankos, 2019, – 334 pp.
The initial print-run of what is announced to be Part 1 of 2 was sold out in pre-orders, before it even rolled off the press. It is a clear indication that Sabaliauskaitė's name alone stands for great literary quality among Lithuanian readers. Most of them were not disappointed and continued gushing once they received their copies, although there were some raised eyebrows (to put it mildly) when the book was not shortlisted for Book of the Year. 
This time Sabaliauskaitė tackles the story of Catherine I of Russia, the wife of Peter the Great and, after his death, briefly the Empress Regent of Russia, which makes her the first woman on the throne of the Russian Empire. Her story is definitely worth a novel or two: while little is known about her origin, she came from a family of Polish-Lithuanian peasants, was orphaned at a young age due to plague, and ended up in the Russian court in a whirlwind succession of service or slavery, sexual liaisons, travels with armies, and possibly even being sold at one point. Sabaliauskaitė successfully covers multiple angles at once: a woman's story in a harsh men's world, involving violence, sexual and otherwise; the story of a marriage that is strong and true, but not entirely healthy and supportive; and most importantly, the clash of cultures of Russia and the West, sometimes in ways that seem eerily recognizable. She adjusts her famously Baroque style to shorter sentences, gleefully peppered with strong Russian curse words. Obviously, Part II is eagerly awaited. 
Silva rerum; Silva rerum II; Silva rerum III; Silva rerum IV. Vilnius: Baltos lankos, 2008-2016. – 286 pp, 294 pp, 320 pp, 397 pp.
In Lithuania the Silva Rerum (from Latin silva rerum forest of things) saga (2008-2016), set in 1659-1795, is considered to be the most important literary event of the last decade. Almost 150 years of the country's history is told through the lives of four generations of a minor noble family, the Narwoyszes, simultaneously depicting the cultural and philosophical panorama of the Polish-Lithuanian Commonwealth and its international connections – some of the action takes place in England, France, the Netherlands and Germany. The themes that come up in her novels and short stories are identity, memory, history and the micro-histories of individuals shaped (or crushed) by historical events. Silva Rerum novels have been praised by cultural historians and acclaimed by critics as a "new page in Lithuanian literature". The Vilnius Tourism Information centre has introduced historic-literary guided tours Silva Rerum which follow the path of Kristina Sabaliauskaite's novel: Silva Rerum and Silva Rerum II guided tours are now the most popular in the city of Vilnius.
---
Selected translations
Estonian: Peetri keisrinna I. Translated by Tiina Kattel. Tallinn: Varrak, 2021
English: Vilnius. Wilno. Vilna: three short stories. Translated by Romas Kinka. Vilnius: Baltos lankos, 2015
Latvian: Pētera Imperatore I. Translated by Dace Meiere. Riga: Zvaigzne, 2020
Silva rerum; Silva rerum II; Silva rerum III; Silva rerum IV. Translated by Dace Meiere. Riga: Zvaigzne, 2011, 2012, 2015, 2018
Polish: Silva rerum. Translated by Izabela Korybut-Daszkiewicz. Cracow: Znak, 2015; Silva rerum II. Translated by Izabela Korybut-Daszkiewicz; Silva rerum III. Translated by Kamil Pecela. Cracow: Wydawnictwo Literackie, 2018, 2021