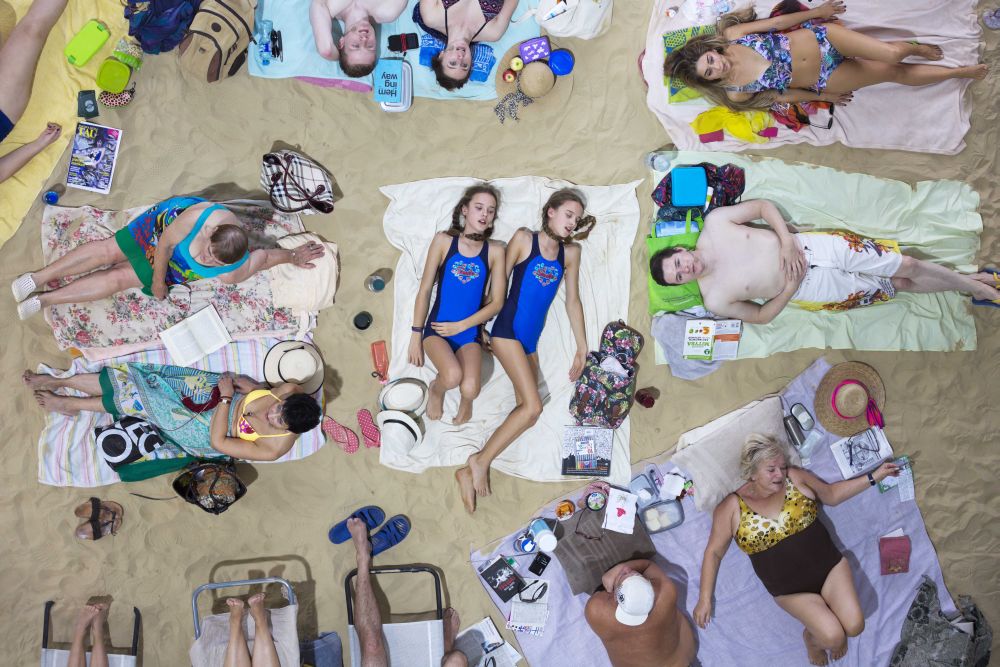 Rugilė Barzdžiukaitė (b. 1983), theatre and film director and cinematographer of the young generation, is an artist of a distinct, refined style who always patiently matures her stage and film works.
In 2019, the contemporary opera-performance "Sun and Sea (Marina)" created by Bardžiukaitė and her co-authors, playwright Vaiva Grainytė and composer Lina Lapelytė, was presented at the Lithuanian Pavilion at the Venice Biennale and won the Golden Lion award becoming the world sensation.
Between 2002-2006, Barzdžiukaitė studied cinematography at the Lithuanian Academy of Music and Theatre where she obtained a bachelor's degree. She received her second degree in 2008, also from the Lithuanian Academy of Music and Theatre, this time in theatre directing. Between 2011-2013, she studied film documentary at Goldsmiths, University of London, where she earned a master's degree.
Barzdžiukaitė's favourite creative strategies are exploring the tension between objective and imaginary realities and playfully questioning the anthropocentric worldview. Barzdžiukaitė has made seven short and full-length documentaries and feature films and has worked as the cinematographer on more than two dozen films. Her latest film, Acid Forest ("Rūgštus miškas"), is an anthropological and philosophical study of how humans react to less familiar animal species.
Barzdžiukaitė made her debut on the theatre stage in 2010 with the performance Hippocampus ("Hipokampas") based on the original material and marked by refined aesthetics. Between 2011-2013, together with playwright Vaiva Grainytė and composer Lina Lapelytė, she created a contemporary opera Have a Good Day! ("Geros dienos!"). The plot of the opera for ten voices, electronics and piano consists of the thoughts of supermarket cashiers – human destinies hidden underneath forced smiles and mechanical service. In 2013, the opera Have a Good Day! was awarded the prize of the Music Theatre NOW competition organised by the International Theatre Institute in Sweden and the main prize of the Fast Forward, European Festival for Young Stage Directors in Germany. The opera has been performed at music, theatre and opera festivals in the USA, China, Germany, Switzerland, the Netherlands, Portugal, Estonia, Latvia, Russia, Ukraine and France and broadcast on BBC Radio 3.
In 2015, Barzdžiukaitė, together with Grainytė and Lapelytė, received the Young Artist Award for a joint creative project. In 2018, the trio was recognised with the Borisas Dauguvietis Earring award, securing the highest award given to Lithuanian artists – the Lithuanian National Prize for Culture and Arts – in 2019.
In 2018, Barzdžiukaitė's film Acid Forest was awarded the First Feature Swatch Art Peace Hotel Award at the Locarno Film Festival, and the Grand Prize for the best feature film debut at the ZINEBI, the Bilbao Festival of Documentary and Short Films in Spain.
In the joint works by the team of Barzdžiukaitė, Grainytė and Lapelytė special attention is paid to the relationship between documentary and fiction, realism and poetry, something which is clearly expressed in their opera-performance "Sun and Sea" (2017). The opera participants are watched from above as they lie on the actual seaside sand dressed in multicoloured bathing suits, and genuinely discuss the composition of the sunscreen, holiday
plans, delayed flights and afternoon nap dreams. Yet among other things and without anything to prepare the viewer, their discuss problems of globalisation, the ecosystem and the meaning of life, and gradually, the carefree, sun-filled scene is permeated with a sense of global, unstoppable threat. as.rugile@gmail.com
www.sunandsea.lt