Theatre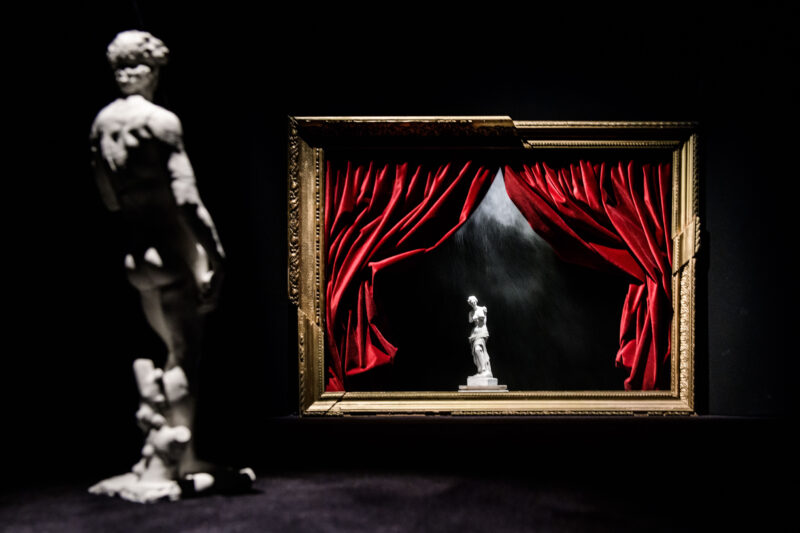 Contemporary Lithuanian Theatre: A Child and a Hostage of the Tradition of Director's Theatre
Kristina Steiblytė
The first steps
Professional theatre has been known in Lithuania since the 16th century, when plays started to be performed at the Grand Duke's palace, in manor houses and at Vilnius University. Theatre shows were created and performed by travelling troupes from different countries, multinational theatre collectives of students, and manor and city theatres. However, theatre in the Lithuanian language emerged only at the end of the 19th century. At the time when the Imperial Russian authorities ruling Lithuania forbade the use of the Lithuanian language and the Latin alphabet, gatherings called Lithuanian evenings began to be held. At those gatherings, folk songs were sung, poetry was recited and plays started to be put on. Out of this tradition, and due to the activities of various national societies, as well as the efforts by theatre directors who had trained in Russia, the first examples of professional Lithuanian theatre were born.
From the very beginning of professional theatre in Lithuania, two distinct influences were noticeable and remained particularly important for a long time, determining the development, content and form of theatre: one was the influence of folk art and ethnic culture related to the search for the national identity and informed by the romantic worldview; the other was first-hand experience of foreign theatre (first and foremost, Russian) acquired through studies and travelling. That was the context in which, in the interwar period, Kaunas State Drama Theatre and other professional theatres were established in other Lithuanian towns, and training of theatre actors and critics had its start. Their repertoires were expected both to express romanticised national content, reflecting and forming the national spirit, and deliver realistic aesthetics, which was sometimes adopted directly from Russian theatre creators, such as Anton Chekhov, who worked in Kaunas for a brief period. However, theatre life in Lithuania at that time was much more varied than in national theatres, which only occasionally opened to experiments. Parallel to them, there existed both innovative and high-quality entertainment theatre initiatives. Arguably the most compelling experiment of independent theatre was
Vilkolakis, the theatre of political satire, which sometimes openly ridiculed politicians and other prominent figures in the society.
When professional Lithuanian theatre began to form at the end of the 19th century, the institution of a theatre director was already well-established in the rest of the world. This particular type of theatre successfully took root in the Lithuanian culture: director's theatre was being created in Lithuania during the interwar period, the Soviet era and after the restoration of independence. Having started as humble attempts to present mise-en-scènes from plays, the director's role developed into a realisation of a particular interpretation of a selected text, which in the Soviet times, through the use of Aesopian language, often helped to circumvent censorship, and which now brings audiences unique theatrical experiences.
Director's Theatre
The status of the theatre director as the pivotal creator of the performance, solidified in the second half of the 20th century, has not lost its significance even now and the director remains the core element of theatre in Lithuania. It is through reviewing work by most prominent directors that Lithuanian theatre history is told, changes in institutional practice are observed and questions of aesthetics are pondered. Even consequences of political shifts for the theatre are also considered primarily by analysing the changes in the creative output by famous directors.
Although there were prominent directors in Lithuania working in distinct creative styles in the interwar period, it was not until the Soviet times that auteur's theatre truly came to expression and became a tradition. For example, Juozas Militinis, who had studied in France, returned to Lithuania between the two wars but only began to consistently realise his director's programme at the end of the 1950s in Panevėžys. Jonas Jurašas, Jonas Vaitkus, Eimuntas Nekrošius, Rimas Tuminas and Gytis Padegimas, who all studied in Russia, established their unique directing styles on the theatre stage in the 1970s and 1980s. Later, after Lithuania regained independence, the ranks of the most important theatre directors were joined by Vaitkus' and Tuminas' students Gintaras Varnas, Oskaras Koršunovas, Agnius Jankevičius, Paulius Ignatavičius and Artūras Areima.
A segment of these directors continues to be outstanding and active theatre creators. However, the older generation that created the current tradition of the director's theatre and the Lithuanian school of acting and directing, has almost left. Thus, the middle and the younger generation of performing artists begin to dominate the field both creatively and in terms of theatre education.
Probably the most important personality in contemporary Lithuanian theatre is Oskaras Koršunovas. His unique directing style was noticed as early as in his very first works, while he was still studying. Working with the texts by OBERIU (The Union of Real Art), this young director, together with teams of young actors and set designers, was creating a distinct world of the absurd and forming his recognisable directing style. Koršunovas fused the interest in the individual's position in society and various social issues, something he adopted from Vaitkus, his teacher in theatre directing, with the aesthetics influenced by postmodern thought. One of the first directors in Lithuania to start staging modern foreign dramaturgy about people from the margins of the society and antiheroes, Koršunovas also dedicated a lot of attention to classical texts. It was with those productions of classical drama pieces – outstandingly visual, abundant with references to the present and popular culture – that he impressed both critics and the public on the cusp of the 21st century. This director continues to create theatre based on a similar perception of the world, albeit nowadays increasingly often performed in chamber spaces, with a strong focus on working with young actors he himself taught.
Although he has been creating fewer new works lately, Gintaras Varnas, who belongs to the same generation as Koršunovas, retains the status of one of the most important creators of intellectual theatre in Lithuania. One of the first notable works of Varnas was the Shepa Theatre he founded at the very end of the 1980s. Borrowing the form from the pre-war tradition of Polish puppet theatres in Vilnius, Varnas created a puppet theatre of political satire. Although it was short-lived, its influence continued to be felt long afterwards, when similar satirical programmes moved to television. However, having stirred much interest in the Shepa Theatre satire, Varnas quickly changed his creative direction and is currently best known as an aesthete and an intellectual of Lithuanian theatre. Having often given voice to people on the fringes of the society in his works, lately Varnas has been creating large-scale – in terms of form and content – performances about faith, the Holocaust, about truth and the role of art in people's and social life.
Agnius Jankevičius, who belongs to the younger generation of theatre directors, has worked in many national theatres in Lithuania and established himself as a director of socially engaged theatre. While he continues to stage productions that offer provocative themes, and together with those themes, unexpected forms, his most radical and most intriguing experiments come from his work with Bad Rabbits, a troupe comprising some of his former students of acting. Works by this troupe are based on collaboration and collective participation, often invite audiences to get involved and rarely take place on traditional stages.
Artūras Areima, who had worked freelance theatre director and attached to the Kaunas State Drama Theatre, eventually made the decision to establish his own theatre and not to belong to any institution. Having started with formalistic searches and tried his hand at reinterpreting the classics, lately Areima, together with a troupe of actors, has been creating often brutally honest productions that deal with social, political and personal issues. Among his most recent works are not only productions of contemporary plays, but also the much-talked-about work about the Holocaust Mūsiškiai (Our People).
Gintarė Minelgaitė, the director who fuses theatre with performance, cinema and comics, has over the past several years inserted her pseudonym Dr GoraParasit into the panorama of contemporary Lithuanian theatre in bright yellow letters. After graduating in acting, graphic design and directing, this theatre creator gives her performances an elegant, minimalist form of bright – mostly basic – colours, plays with references to popular culture, changing the meanings of recognisable pieces and stories by unexpected juxtapositions. The artist also directs video clips, creates sculptures, stages performances and participates in them herself. One of her most interesting recent works is the chamber comic-strip opera Alfa, based on the life of Federico García Lorca, which connects Spanish culture with the aesthetics and logic of comics depicting superheroes and is rich in wit and irony.
Probably the most famous among the youngest Lithuanian directors is Kamilė Gudomonaitė. The works of this Gintaras Varnas' student can be seen at such theatres as the Lithuanian National Drama Theatre, the National Kaunas Drama Theatre, the Oskaras Koršunovas Theatre and Klaipėda Youth Theatre. The director, who has directed works by August Strindberg, Shakespeare, Falk Richter, Mika Myllyaho and interpreted Joël Pommerat and Viktor Pelevin, has also experimented with collective creative process based on artistic research she conducted with the team. Having won over many a theatre-goer with her debut
interpretation of Dreamspell, based on August Strindberg's play, lately she has been moving further away from the aestheticised, visual theatre that is so close to Varnas, looking for ways to talk about social issues as authentically as possible.
Injections of theatre culture
Lithuanian director's theatre receives a lot of attention in Lithuania. It also often becomes a powerful means of representing the country abroad. One of the first Lithuanian theatre creators to enter the history of world theatre is Eimuntas Nekrošius. He, who spellbound critics and viewers across at least three continents, was eventually joined by other directors, most notably Oskaras Koršunovas, who had successfully tested the effect of their performances abroad. Works by some Lithuanian theatre directors were received so favourably outside Lithuania that they became rare guests in their home country. Among those directors are Rimas Tuminas, who currently works mainly in Russia, and Cezaris Graužinis, who has created his latest works in Greece.
Theatre in Lithuania is also open to influences by foreign directors. Productions by Polish directors Krystian Lupa and Łukasz Twarkowski, Latvians Māra Ķimele, Valtris Sīlis and Elmārs Seņkovs, Finnish theatre creators Kristian Smeds and Saara Turunen, Árpád Schilling from Hungary and Frenchman Éric Lacascade have been successfully put on in Lithuanian theatres, and the Russian Drama Theatre of Lithuania regularly collaborates with Russian directors of various generations.
Foreign theatre creators not only bring their aesthetics and creative work methods to Lithuania but also often tackle themes that are less frequently explored by Lithuanian directors. First and foremost, it is Lithuanian and European history, especially the history of modern times. Probably one of the first to depict the January 1991 events on the Lithuanian stage was the Latvian director Sīlis, while the consequences of the Second World War and the Holocaust to the present were recently most memorably pondered by Yana Ross in Mūsų klasė (Our Class) and Lupa in Didvyrių aikštė (Heroes' Square). These works, created in 2013 and 2015 respectively, served as an encouragement to Lithuanian directors to take on complex topics of history, which is especially evident when it comes to exploring the
Holocaust and the role of Lithuanians in it from an artistic point of view, examples of which have recently been produced by Varnas, Koršunovas and Areima.
Yana Ross is one of the most successful examples of directorial "import" to Lithuania. She grew up in Latvia, Russia and the USA and graduated from Yale Drama School in 2006, staging Elfriede Jelinek's Bambiland in Lithuania the following year. Unlike most foreign directors who usually work in Lithuania once or twice, Ross regularly returns to Lithuania and has staged over ten productions in its theatres. Her work fits in well with the Lithuanian tradition of auteur's theatre, complementing it with an outsider's perspective on narratives that local theatre creators consider self-evident. Her latest productions in Lithuania stand out with sensitive, subtle acting that Ross combines with theatricality, expressive set design and visual projections utilised to tell parts of the story. In staging both classic works and contemporary theatre writing, Ross chooses to underline the challenges of the present faced by the country where she works, as well as its most painful, and therefore usually instinctively avoided, topics. That is what the director's latest work in Lithuania, Vienos miško pasakos (Tales from The Vienna Woods), constitutes, revealing how small communities are affected by the giving in to mythical thinking, the lack of critical thought, superstition and the ignoring of history or even its denial.
In the shadow of national theatres
There are more than 50 professional theatres in Lithuania, and only 13 of them are national. However, about half of all new theatre productions in Lithuania get created in national theatres, and it is by working in them that young actors and directors can establish themselves in the Lithuanian theatre community.
The first independent theatre in Lithuania after the interwar period was Keistuolių teatras (Vilnius Keistuolių Theatre). Founded in 1989, the theatre has established itself as an originator of performances for children and musical performances for adults. The actor and director of this theatre Aidas Giniotis transcended the role of a theatre director, also raising several generations of actors. After the restoration of independence, especially at the start of the 21st century, independent theatres and troupes began to proliferate. They were forming in one of two ways: either through the emergence of theatre artists' collectives wishing to work
together or through a theatre director seeking greater autonomy and more creative opportunities than working in public theatres could offer.
Both Keistuolių Theatre and the brainchild of Giniotis' students Atviras ratas (Open Circle Theatre) were established on the basis of actors' troupe. The actor, director and educator Valentinas Masalskis, together with some actors he had taught, founded Klaipėda Youth Theatre. Independent troupes are the already mentioned artists' syndicate Bad Rabbits, which cooperates with Jankevičius, the actors' troupe Teaomai and Taško teatras (The Full Stop Theatre) from Klaipėda. These troupes oversee not only their repertoire, but also ensuring continuous engagement to their actors, and they often carry out various other activities in addition to artistic projects. Most often, these theatres perform at independent performance venues, offer chamber performances and attract younger audiences than national theatres.
One of the first director's theatres established in Lithuania after it regained independence was Eimuntas Nekrošius' Meno fortas (The Fortress of Art). This theatre was producing Nekrošius' performances and dedicated a lot of attention to their circulation in Lithuania and abroad. After the director died in 2018, Meno fortas has been overseeing the dissemination of the director's latest works and the preservation of his creative legacy. Almost immediately after the founding of Meno fortas, the Oskaras Koršunovas Theatre was established, followed several years later by Cezaris Graužinis' cezario grupė (Cezaris' Group), Gintaras Varnas' Utopia, Artūras Areima's Theatre, and Teatronas, which formed around the director of the young generation Gildas Aleksas. All these theatres take care primarily of ensuring the continuity and dissemination of their principal director's work. Unfortunately, it is rare for such theatres to have premises suitable for creative processes, let alone performing shows, so Koršunovas, Varnas and Areima often create performances in collaboration with national theatres.
New movements and directions
Theatre-goers, creators and critics that grew up in a strong tradition of director's theatre, are often disappointed when they encounter different theatre. After Koršunovas, not a single director emerged in Lithuania who could equal his strong debut or sustain the audiences' and critics' interest for such a long time as he did with his powerful work, so in the early 2000s,
numerous concerns were voiced about the future of Lithuanian theatre given the lack of outstanding directors, especially among the young generation. Although such concerns are regrettably justified, it does not mean that the end of Lithuanian theatre is imminent. Alongside the largest national theatres, and sometimes in them, theatre is being created through collaboration in creative labs, rejecting the stage as a designated space for performance, the traditional theatre hierarchy or even the conventional concept of a theatre performance. There are experiments with documentary theatre, performances-tours, aural and musical dramaturgies and puppet theatre for adults.
Jonas Tertelis, a television director who has been increasingly working in theatre, is currently one of the few theatre creators in Lithuania who regularly works with theatre documentaries and autobiographicity. In his most successful productions, professional actors or people who never acted before tell their personal stories, as well as stories of the city and its inhabitants, becoming authentic witnesses of the present and the impact of history on the present.
Giving voice to authentic experiences and history are also aural experiments, which have recently become a curious alternative theatre form. The work Sapnavau sapnavau (I Dreamt I Dreamt) by director Kamilė Gudmonaitė and playwright Teklė Kavtaradzė, which takes place in complete darkness, allow expression to prisoners who have been banished from the society and sentenced to life imprisonment. Composer Arturas Bumšteinas' Olympian Machine is an audio-visual installation in which twelve speakers broadcast narratives by twelve people, recorded on request to remember and retell the plot of one of the works of classical mythology and edited by the director. In this work, a fascinating experiment on the ability to remember turns into a study of personal and historical memory. The sonic experience Glaistas (The Filler) by Rimantas Ribačiauskas and Mantas Jančiauskas fuses elements of the increasingly popular in Lithuania sound experiments with those of performances-tours that have been brought into the spotlight by the Šeiko Dance Theatre. A small group of participants of Glaistas, accompanied by the pair of organisers, set off to wander the territory of the former Vilnius ghetto, listening to the impressive soundtrack and memories of those who lived there, visiting not only the courtyards but also entryways, apartments, the school undergoing renovation and the theatre.
Both Glaistas and Olympian Machine were produced by the creative production company Operomanija. While this organisation works mainly with contemporary opera and its popularisation, it also has a significant impact on the field of drama theatre through musical
and aural experiments, expanding its boundaries and involving drama theatre directors and playwrights in the creation of contemporary opera. Apart from Operomanija, aural dramaturgies are also propagated by the creative team Bilietų nėra (No Tickets) that promotes the renewal of radio theatre. Collaborating predominantly with the younger generation actor and director Paulius Markevičius, Bilietų nėra has produced not only theatre performances that received acclaim at various international radio theatre festivals but also the podcast series Šiaurės miestelis (Northern Town; an area in Vilnius – translator's note).
A small community of Lithuanian puppeteers also shows openness to new forms. The most compelling work at the Vilnius Theatre Lėlė (Puppet) lately has been produced by Jūratė Trimakaitė who studied puppetry in Lithuania and France and who occasionally returns to this theatre. Her works Kryptis (Direction) and Antis, mirtis ir tulpė (Duck, Death and the Tulip), both nominated for the Golden Cross of the Stage, stand out in the context of Lithuanian puppeteers with both their aesthetics and existential themes they invite children to ponder. The team of director Šarūnas Datenis and set designer Antanas Dubra is responsible for exceptional visual experiments in this theatre. Gintarė Radvilavičiūtė, who works mainly in Klaipėda, has been continuously expanding the puppet theatre's audience and its arsenal of means of expression. While this director has created sensitive and visually appealing performances for children by boldly using objects and non-traditional materials in creating puppets, she is no less appreciated for her infrequent, meditative works based on well-known literary works that invite adult audiences on visual journeys.
Actors who have taken up directing tend to experiment both in the organisation of the creative process and in the aesthetics of performances they create. Alongside Valentinas Masalskis and Rolandas Kazlas, who have now firmly established themselves as theatre directors, there is forming a group of young actors who also direct. For example, Paulius Markevičius, who currently directs more than he acts, completed his acting studies as part of Nekrošius' course. This emerging director has already created traditional drama productions and has been experimenting alongside them, either independently or with an interdisciplinary team, on creating works that are close to performance art. Koršunovas' student Gediminas Rimeika also undertakes experiments in the collective creative process, collaborating with artists coming from different fields: actors, set designers, composers, choreographers. One of the most successful actor's directorial debuts in recent times was Mongolija, created with a large team of co-creators by Darius Gumauskas, a well-known actor who embodied the most prominent roles in theatre productions directed by Oskaras Koršunovas. In this chamber
performance, Gumauskas and Andrius Alešiūnas tell stories about their encounters with people with Down syndrome, and after the performance, viewers get invited to talk with a genetics expert who presents in detail not only this syndrome but also other genetic disorders.
Yet another theatre relying on collectivity and community is Karolina Žernytė's Pojūčių teatras (Theatre of Senses). The director, who also graduated in acting studies, came up with the idea of a theatre for the blind while still preparing for her final exams. Her sensory performances are created in consultation with the blind community and through experimenting during rehearsals. Although Žernytė's performances also aim to be interesting for full-sighted, non-participating audiences, their focus is nonetheless on the creation of sensory dramaturgy, placing priority on those for whom theatre created by traditional means is not accessible. One of the director's latest works, Supergalios (Superpowers), turns people with disabilities from spectators into performers who openly share their experiences.
Lately, cooperation with Lithuanian playwrights has been becoming more frequent equally in collective endeavours and directors' projects. A field that had been abandoned for a long time and recently revived by injections of modern foreign dramaturgy, theatre writing in Lithuania is beginning to establish itself as an independent discipline represented by captivating writers from different generations and with different worldviews. Contributing to this shift are not only festivals that have long been promoting dramaturgy by Lithuanian authors, but also a new study programme developed at the Lithuanian Academy of Music and Theatre to prepare screen and theatre playwrights. Moreover, at the initiative of artists from various fields of stage arts, dramaturgy is being established in Lithuania not only as the art of writing plays but also as cooperation on shaping the structure and content of performances.
The growing need for cooperation and sharing of ideas makes more and more artists from various fields engage in theatre-making in Lithuania. Not every collaboration results in a successful outcome and not all artists who test theatre waters decide to stay in the community of theatre creators. Nonetheless, such experiments enrich the experience of all theatre-makers and -goers and nurture a confident generation of theatre creators who are building their own tradition.
Translated by Julija Gulbinovič