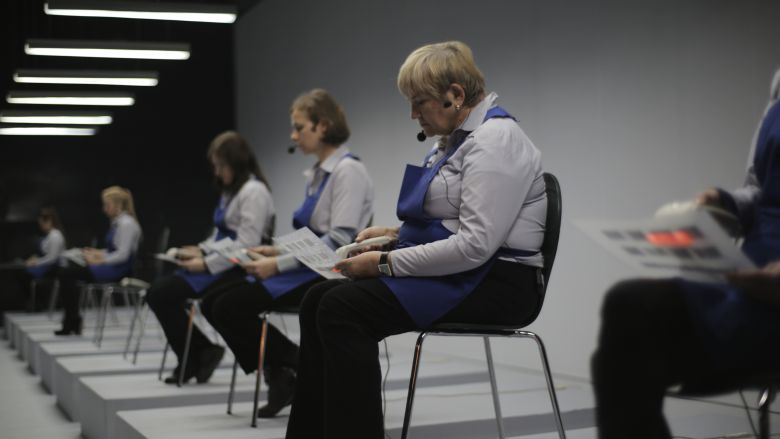 Operomanija is a production company that creates and develops new experimental musical theatre through diverse artistic collaborations. Since 2008, it has produced over 40 contemporary operas, and various multidisciplinary art projects, including the opera for ten singing cashiers, supermarket sounds and piano Have a Good Day! (2013), the spatial opera in the dark Confessions (2015), and the Baroque theatre noise machine performance Bad Weather (2017). The production company runs the NOA (New Opera Action) contemporary opera festival, a leading international event in new music theatre in the Baltic region.
The opera Have a Good Day! (librettist Vaiva Grainytė, composer Lina Lapelytė, director Rugilė Barzdžiukaitė) focuses on the inner lives of cashiers in a supermarket. Faceless, robot-like shop workers are presented as unique and lively characters. The opera has won six prestigious awards (including the main prize at the Music Theatre NOW international competition run by the International Theatre Institute). It has been performed at international music, theatre and opera festivals in the USA, China, Germany, Switzerland, the Netherlands, Portugal, Estonia, Latvia, Russia and Ukraine, and more than ten international theatre festivals in France, and was broadcast on BBC Radio 3. The spatial opera in the dark Confessions (created and performed by Rūta Vitkauskaitė, Jens Hedman and Åsa Nordgren) was inspired by the creators' interest in spatial acoustic sound and its effect on the human imagination.
In 2016, Confessions was awarded a Golden Cross of the Stage, Lithuania's prize for professional theatre, for the best music, and the Lithuanian Composers' Union award Musical Nail of the Year. The opera has been performed in Lithuania, Sweden, Germany and the Netherlands. Bad Weather (by the composer and sound artist Artūras Bumšteinas) is a performative sound art show based on Baroque theatre noise machinery and old weather maps, read as graphic musical notation. Bad Weather premièred in 2017 at the Cricoteka Centre for the Documentation of the Art of Tadeusz Kantor (Krakow, Poland) in the context of the Unsound Festival.