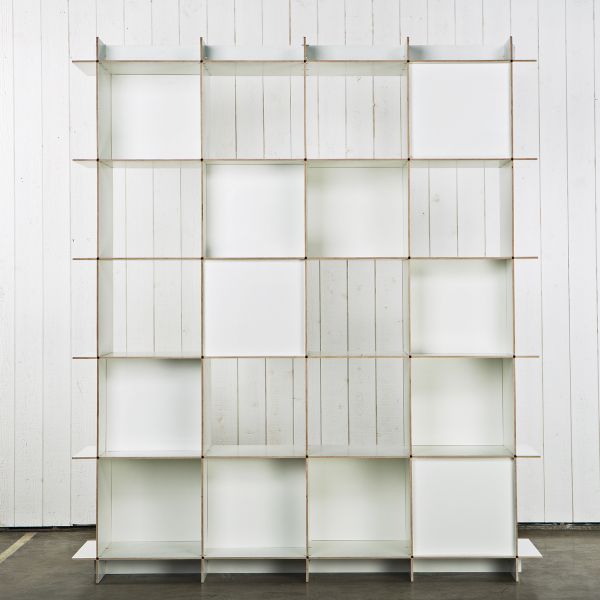 Shelf: Plus Air
Created: 2014
Manufacturer: Contra Design House
Concept is always an important element in Nauris Kalinauskas's (born 1972) work, with a particular focus on construction, ergonomics and technical innovation. These are the characteristics of the Plus Air, a light modular shelving system constructed out of ultra-thin laminated plywood, which can vary in height and width and is suitable for both private and public spaces. The main distinguishing feature of this shelving system lies in the unique modular components which can be connected, disassembled and reconnected without any screws.  The shelving system was awarded the Lithuanian Good Design prize in 2014, and the A'Design and Green Good Design awards in 2015. The designer realised his design in collaboration with the Latvian firm Latvijas Finieris.
Kalinauskas is one of the foremost designers in Lithuania. He completed his architecture studies at Vilnius Gediminas Technical University (1992), and the Vilnius Academy of Arts (1996), beginning his career in advertising. He has been designing furniture and interiors since 1996, as well as actively participating in design competitions and exhibitions in Lithuania and abroad. For 15 years, his name was inseparable from the design studio Contraforma, which he founded in 2000. His rug Imperial, Mutabor chair, Quad shelf, and table-picture Mild became symbols of Lithuanian design. In 2007, he was the first Lithuanian to be awarded the Red Dot award for his soft seating series Logo. Over the last several years most of the projects he has been working on have been with Dalia Mauricaitė-Kalinauskienė, their activities being linked on one of their newest projects Demoroom. Dalia Mauricaitė is also well known in the field of Lithuanian design for establishing a gallery and shop called Daiktų viešbutis / Hotel of Things. She was the organiser of the first Lithuanian Dizaino turgus / Design Bazaar, as well as one of the curators of Dizaino savaitgalis / Design Weekend.