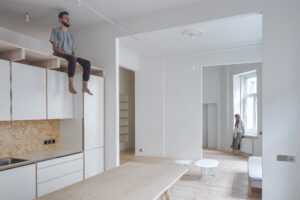 Apartment for a young family in Vilnius
Type: private interior
Implemented: designed & constructed in 2017
Address: Sodų g., Vilnius
Designers: Gabrielė Šarkauskienė, Antanas Šarkauskas
ŠA atelier, a firm showcasing the creative talents of Gabrielė Šarkauskienė (b. 1990) and Antanas Šarkauskas (b. 1989), designs laconic, unencumbered spaces for daily living or commerce. All of the firm's designs demonstrate a capacity for revealing the simplicity of shapes, materials, and details. The team's name, pronounced "Sha" in Lithuanian, is almost an invitation to interact with one another in whispers – calmly, subtly, and free of noise.
This apartment and its interior, designed for a young family, is located in the Vilnius Railway Station district, just outside the Old Town, and invites visitors to explore the history of a building constructed in 1862. Designed almost like an artistic collage, the flat includes fragments and elements of decor and finishing from past interiors. The designers removed any unessential partitions, introducing just one new wall, which serves as a kitchen, cabinet, and "hub" for utility systems. The architects also removed all doors inside the flat to reveal its multifaceted composition and to create overlapping spaces that seem to flow freely between each other.
The only door left in the apartment opens to a long bathroom – a space which, at first glance, appears considerably abstract but serves all of the necessary functions. The rules of the game continue through the rest of the space: surviving old plaster decor on the ceilings is painted white, with the occasional older layer exposed in certain places, while the bedroom space contains nothing but one wooden volume, which serves as both a bed headboard and a closet.
Photographer: Norbert Tukaj