News
LATVIAN AND ESTONIAN PUBLISHERS VISIT VILNIUS: LET'S READ EACH OTHER'S LITERATURE!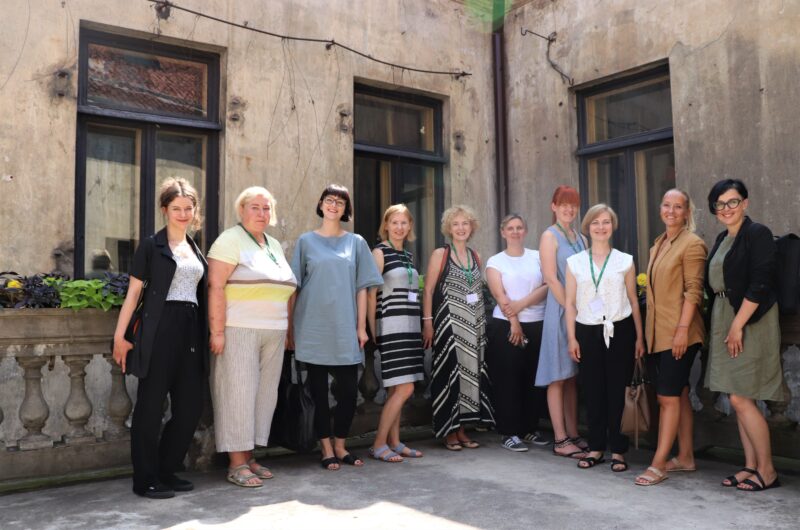 Latvian and Estonian publishers and other visiting guests at Vilnius University. Photo by Rūta Statulevičiūtė-Kaučikienė
On 7-9 July, after the eighteen-month-long break in live visits, Latvian and Estonian publishers visited Vilnius. Representatives of publishing houses learned about the current issues of Lithuanian literature and the possibilities of financing translations, spoke with Lithuanian publishers and got acquainted with the cultural and historical layers of Vilnius. The faithful ambassadors of Lithuanian writers in Latvia, Latvian translator Dāce Meiere and her Estonian colleague Tiina Kattel, presented to the visiting guests the books they would like to see on the shelves of their respective countries.
Representatives of Latvian publishing houses Jānis Roze, Latvijas Mediji, Zvaigzne ABC were joined on their visit to Vilnius by Estonian publishers Helios, Postimees Kirjastus, Hea Lugu and Argo. According to Kotryna Pranckūnaitė, project manager at the Lithuanian Culture Institute, the neighbouring countries were selected for the first live visit after a long phase of virtual-only meetings not only because of geographical proximity: "When planning the steps of promotion of Lithuanian literature, we tend to think about the so-called "major languages": English, German, French and the like. However, we must make sure that the work of our writers is not "terra incognita" to our closest neighbours and intensify the exchange of translation and publishing projects between our countries," said Pranckūnaitė.
At the end of the visit, we talked to two publishers from Latvia and Estonia, as well as both aforementioned translators about their discoveries on the visit to Vilnius, compared the effect of the pandemic on the publishing market in all three countries and explored how (or whether) we read each other.
Lithuanian books among Latvian publishers' bestsellers
During the visit, Renate Punka, the director of the Latvian publishing house Jānis Roze and the head of the Latvian Publishers' Association, hoped to get a broader overview of Lithuanian literary trends. Her expectations were met and exceeded: "Over several days in Vilnius, we learned a lot of facts, the presentations by publishers and translators were very inspiring and I can absolutely say that my horizons expanded considerably," the Latvian publisher shared after the visit.
Lithuanian, Latvian and Estonian publishers had the opportunity to share their experiences. According to Punka, the trends are the same in each of the three countries: readers highly value paper books purchased in actual bookstores, whereas digital publishing still has a very small market share.
About 80 per cent of books published by Jānis Roze are translations from various languages. This publishing house has already brought to its readers the works of Undinė Radzevičiūtė, Rasa Aškinytė, Sigitas Parulskis, Monika Vaicenavičienė and Kotryna Zylė. According to Punka, two Lithuanian authors of the past several decades who have gained particular popularity in Latvia can be singled out: Jurga Ivanauskaitė and Kristina Sabaliauskaitė. Young readers are especially fond of Jurga Vilė and Lina Itagaki's graphic novel Siberian Haiku (its translation into Latvian, published by liels un mazs in 2020, won the Jānis Baltvilks award for the best translated book for children and was nominated for the most important Latvian literary prize for the best translation of 2020.) The largest Latvian publishing house, Zvaigzne ABC, announced that the first volume of Kristina Sabaliauskaitė's novel Peter's Empress and the latest book of Lina Žutautė's Kakė Makė series, Kakė Makė and Friendship Broom, are among their top ten bestsellers of 2020. "I think that Lithuanian readers, at least for the time being, don't have as much Latvian literature available in their language, with the exception of Nora Ikstena's Soviet Milk," noted Punka.
Translator Dāce Meiere has made a significant contribution to such popularity of Lithuanian literature in Latvia, having translated almost all of the above-mentioned books (except for the Kakė Makė series, which is being translated by Marika Taube).
During her visit to Vilnius, Meiere presented to the representatives of publishing houses Jurgis Kunčinas' novel Tūla, Vidas Morkūnas' series of short stories Pakeleivingų stotys (The Wayfarers' Stations), Virginija Kulvinskaitė's novel kai aš buvau malalietka (when i was a malalietka), Undinė Radzevičiūtė's book Grožio ir blogio biblioteka (The Library of Beauty and Evil), and Vilnius: City of Strangers by Laimonas Briedis. The translator believes that all the presented works are very different high-quality texts, each of which can be interesting for Latvian readers in its own way.
According to Meiere, the way she chooses the books by Lithuanian authors to translate (and pitch to Latvian publishers) is based on "an intricate combination of feelings, intuition and rational arguments and considerations". "The book has to be Lithuanian but not too Lithuanian and understandable not only to Lithuanians. The most important thing is for it to simply be good literature, which is a universal thing," said Meiere.
When asked what valuable works by Latvian authors are not yet available in Lithuanian and should be, Meiere recommended Andra Neiburga's collection of short stories Push, push (2004) and Andris Kalnozols' new novel Calendar is my name (2020).
There could be more books by Lithuanian authors in Estonia
Sandra Saul, project manager of the Estonian publishing house Helios, has been harnessing her interest in Lithuanian literature for some time, and her visit to Vilnius helped her to better understand our country's scene of fiction and non-fiction. "We had very successful business meetings with colleagues and exchanged useful information. I believe I got acquainted with the Lithuanian publishing system and got some great contacts. I would say that I now have a much better understanding of the situation in Lithuanian literature and have some ideas of what I could do with that knowledge. I hope that these ideas will become a reality," Saul shared her impressions from the visit to Lithuania. Even before visiting Vilnius, she was interested in several topics of non-fiction literature and during her visit to Vilnius, had a chance to meet like-minded publishers.
"Publishers in all three countries are experiencing the same problems: sales in bookstores went down during the lockdowns, which, as I understand it, have been partially offset by e-commerce, at least in Estonia and Lithuania. However, books had become perhaps the only unmodified form of culture for all of us, so we can say that publishers were more fortunate than other cultural operators. I believe the pandemic will have improved the reading statistics and habits of all of us!" Saul said.
Helios is yet to publish its first book by a Lithuanian author, and there are very few translations into Estonian on the list of the Translation Grant Programme run by the Lithuanian Culture Institute. Saul agrees that there is a lack of knowledge about Lithuanian literature in Estonia: "In my subjective opinion, we, Estonian publishers, could do more, because I see that Lithuanian literature is rich and diverse, and I am impressed by the strong and vibrant voice of women writers. More vigorous cultural exchange would be valuable for both countries," said the Estonian publisher.
Tiina Kattel, the translator of Sabaliauskaitė's Peter's Empress, Alvydas Šlepikas In the Shadow of Wolves and other works by Lithuanian authors into Estonian, presented to the participants books that could extend the presently quite scarce list of translations: "I have already presented to you Vilnius Poker by Ričardas Gavelis because translations of classics should also be pitched to publishers, as almost nothing has been translated from that period in Lithuanian literature. I've also presented Tomas Venclova's Vilnius: A Personal History, a very sincere book written primarily for non-Lithuanians. Vilnius is a wonderful, mystical place and it deserves to have travel books with a cultural context about it, and not just the ones that merely provide the information on where things are and when they were built. Venclova's book is personal. The author is an erudite, writing in a simple, readable and interesting way."
Kattel also introduced Estonian publishers to Undinė Radzevičiūtė's novel Blue Blood, a book, one-third of the action of which takes place in Estonia, so it should be understandable to Estonians (Radzevičiūtė's novels There Will Be No Baden Baden and Fishes and Dragons have already been published in Estonia by Kultuurileht). A detective novel Adata (Needle) by Jaroslavas Melnikas and Gina Viliūnė's Žmogžudystė batsiuvio dirbtuvėje (Murder in a Shoemaker's Workshop) were also on her list. According to Kattel, Estonians love historical novels, and several popular authors write in that genre.
"Since I'm an Estonian, a passionate reader since childhood and someone who has been interacting with a lot of very different people, I believe I have a pretty good idea about what our readers like. I also know the market, I know what is popular, what books get sold well," said the translator as she revealed her selection criteria.
When asked to name an excellent Estonian book that could prove interesting for Lithuanians, Kattel mentioned the Melchior series, very popular books by Indrek Hargla translated into many languages. "Melchior is a 15-century Tallinn pharmacist who investigates murders and solves criminal mysteries. The first book was published in 2010, the seventh in 2019. Those are frightfully good books! The author collects material in the archives and creates a truly medieval atmosphere," Kattel shared her admiration for these works of Estonian literature with potential Lithuanian readers.
The Lithuanian Culture Institute is planning a visit from French publishers in September.