Activities of Cultural Attachés, Activities of the LCI, News
Jewish Vilna and Beyond: Contemporary Art and Historical Memory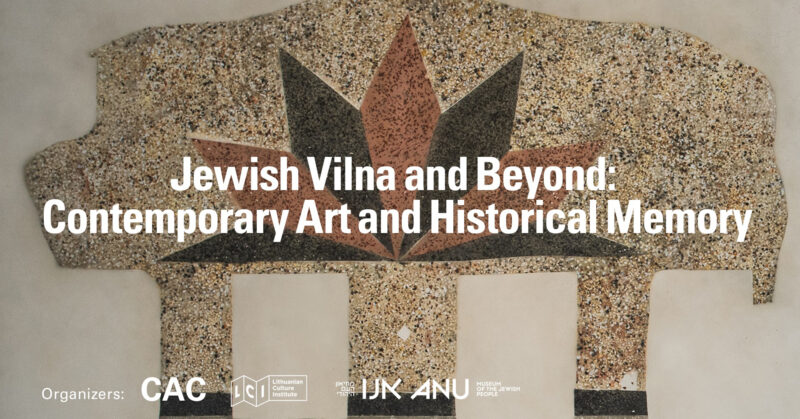 In her series of paintings "We Are Guests", Lithuanian artist Eglė Ridikaitė depicts fragments of the Great Vilna Synagogue, which were uncovered during recent archaeological excavations. The excavations took place over several summers, directly beneath the windows of the artist's studio. Ridikaitė's works were first exhibited at the Contemporary Art Centre in Vilnius in 2020, which itself was built on the territory of the former Vilnius ghetto. In response to "We Are Guests" the Contemporary Art Centre and the Lithuanian Culture Institute have produced a video and organised an accompanying international discussion about collective memory, Jewish heritage, and its place in contemporary art.
You are invited to join us for the virtual screening of video "Jewish Vilnius in the works of artist Eglė Ridikaitė" (director Mikas Žukauskas, composer Arturas Bumšteinas) and an international discussion about the current presence (or absence) of our traumatic histories in contemporary art and culture.
Ridikaitė's paintings depict the synagogue's bima floor as well as different historical architectural layers, which are not immediately perceived as part of Vilnius' local Jewish history, but arguably should be due to their unique location. Departing from that position, we have invited art and architecture historians, researchers, and art practitioners to talk about similar artistic inquiries and contribute to a broader discussion on collective memory and its mapping in Vilnius and other places today.
Participants of the virtual discussion:
Architect prof. Amnon Bar Or (Israel)
Art historian and director of the newly established Vilnius Museum Dr. Rasa Antanavičiūtė (Lithuania)
Art historian prof. Adachiara Zevi (Italy)
Artist Dor Zlekha Levy (Israel)
Artist, writer, curator and critic Paulina Pukytė (Lithuania/UK)
Moderated by architecture historian, curator and cultural attaché in United Kingdom Dr. Ūla Tornau.
Recording of the discussion is available via https://www.youtube.com/watch?v=a9C9Sc1JD2I&t=70s
Live broadcasts will be also available on Facebook pages of Contemporary Art Center, Lithuanian Culture Institute, ANU Museum of the Jewish People.
When: Wednesday 28 April 2021 at 7pm (Israeli and Lithuanian time)
This event will be held in English.
Organized by the Lithuanian Culture Institute, Contemporary Art Centre in Vilnius, ANU Museum of the Jewish People