News
100 Years in One Month: The Never – Ending Creation of an Open Society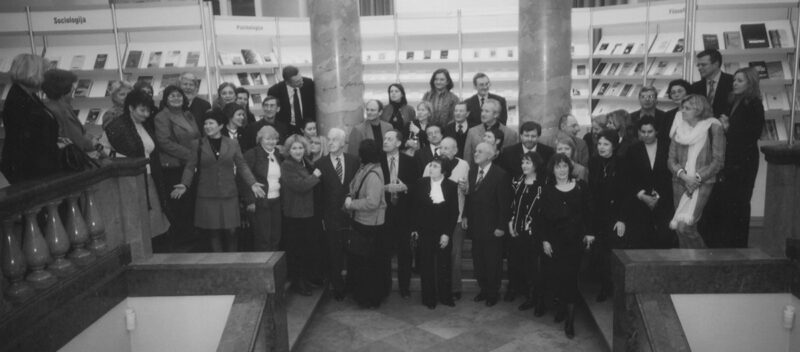 The restoration of statehood did not become, to paraphrase Francis Fukuyama's metaphor, a ticket to the 'end of history', in which post-historical peace would reign. The 11th of March 1990 marked the beginning of rapid change in politics, economics and culture. The feelings of a society that experienced this change during the first years of independence most probably can be compared to the experiences of passengers on an airplane encountering strong turbulence. Today, remembering that period full of new, surprising experiences, the first associations that come to mind are these: Vytautas Landsbergis, the strange fashion in clothes, the withdrawal of the Soviet army, the first MTV broadcasts, the large and colourful supermarkets (to which people would go as if to museums), the unbelievably awful tasting black coffee and… The Open Lithuania Foundation (OLF). Why OLF? One could come up with a host of reasons or restrict oneself to one word: books!
OLF was set up in Vilnius in October 1990 as an independent not-for-profit organization, which in its first years had at its disposal, if judged by today's standard, a laughably small budget of $300,000. Its purpose was to support the creation of a law-abiding state and an open, democratic civil society in Lithuania. OLF was one of 22 foundations, created in Central and Eastern Europe and the former Soviet Union by the American financier and philanthropist George Soros, who originally came from Hungary. All the Soros foundations were united by the common idea of the creation of open societies, but every foundation functioned autonomously and defined its own strategy in accordance with the needs of the country it was in.
The creators of OLF relied on the fundamental Soros thesis that our understanding of our world is basically imperfect. Having had the painful experience of life in a closed Soviet society, through their activities they promoted in every way possible equal opportunities for all members of society, defended freedom of thought and personal expression, and contributed to the creation of favourable conditions for creativity in society. In pursuit of these goals, the foundation paid special attention to the programme Education for Lithuania's Future and book publishing (as many as 800 books were published over a ten-year period), in this way returning Lithuanian society to a context of global social and humanitarian thought.
Vaclav Havel said that rock, jeans and computers destroyed Communism. The creator of OLF, in seeking to destroy the legacy of Soviet thinking in our heads, consistently implemented their vision, a vision that can be expressed in the following words: the creation of an open society is a never-ending process in which there are no permanent answers, only questions.
Aurimas Švedas