News
The Desovietisation Ritual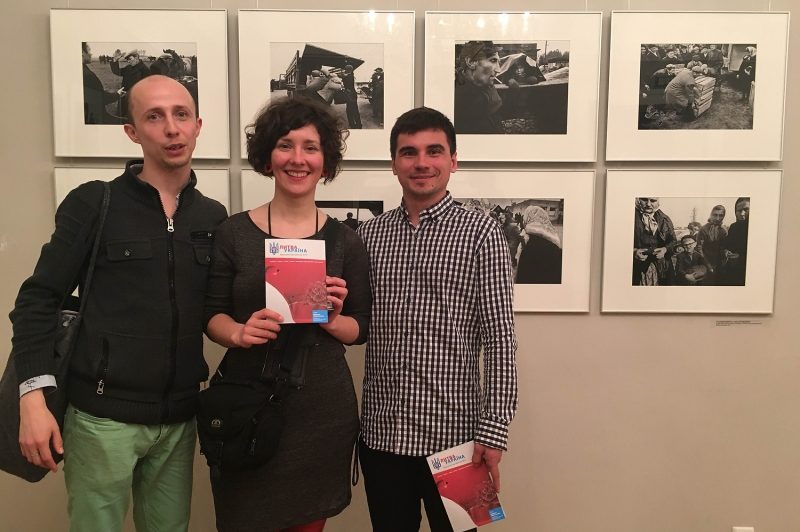 (Text was published in the "7 meno dienos", 2016-06-17)
Ukrainian choreographer Viktor Ruban, who graduated from the Montpellier (France) National Choreography Centre, Ukrainian dancer and social and dance therapy project initiator Danil Bielkin, and Lithuanian dance playwright Monika Jašinskaitė are currently creating a performance together in Lithuania called #LetMePleaseYou, which they are presenting as a desovietisation ritual. The premiere of the performance will be in October and will probably be held in Kiev, though the creative group does not yet know their venue. What's more unusual about the project in the context of the Lithuanian and Ukrainian performing arts is not the international team or the topic of the performance, but the fact that the project did not begin with a search for financing or a barrage of requests to various foundations. What's strange is that the most important thing here was the idea. We spoke to Monika and Viktor about the joys of their creative work together.
How did your cooperation begin?
Monika: Viktor and I met in November of last year. He had arrived in Lithuania with the Lithuanian Culture Institute's Visiting Experts Programme. Viktor offered me the chance to participate in an international creative workshop project as a playwright. This idea did not develop, but another appeared – Viktor Ruban's dance group was invited to the Gdansk festival with a performance that would present Ukraine's contemporary problems.
Viktor: Actually, we did not initially think that the performance group would be international. When we started to discuss the topic with Danil Bielkin, we were thinking of starting from something very important for both of us as Ukrainian artists, and we were thinking about a rather local context. But when we started to define it, we both immediately realised that what we found urgent was not local at all, from many perspectives. In my artistic practice, I insist on the personal involvement of each participant so they would each bring their own perspective to the idea we're developing. We decided that our team needs someone from another context who has no connection with Ukraine at all.
We agreed that to deal with something as complex as social intolerance, cultural perversions and the use of modern clichés to sell a "brand-old" concept of society to people, we definitely needed someone who could work on the piece's communication with the audience, who could help us refine our ideas, and who could form relationships between the performers and the other media used in the performance (video, sound) – and not just in a choreographic sense. I thought that Monika could do this.
Monika: I remember that the performance's initial idea was for it to be about some historic person, but we rejected this. Then we came to the topic of the Soviet legacy – something very interesting and relevant both for me and for Viktor and Danil. We corresponded for three months before our first meeting, hashing out the issues. Viktor Ruban's work methods left a big impression on me: from the very beginning, he had formed a schedule for dancer selection and other tasks, calculated a budget and distributed responsibilities. By the way, the money, for the time being, is "potluck." Before the dancer selection, we defined the characteristics we would judge dancers by – fourteen points that were important to us when forming a team. We looked not just at their physical capabilities and the fitness of their bodies, but also at their ability to discuss, to contribute to the idea behind the performance, to get involved in the project as creators and to introduce their own material. For many participants in the selection, they were more interested in working with our creative group rather than in the problem addressed by the performance, but we managed to find five people from various contexts and with very different professional and personal backgrounds who found the topic interesting. The youngest participants in the project are physical theatre actors, but we also have contemporary dance performers, teachers and fitness professionals.
Basically, we are doing everything the way we think it should be done. Viktor and I both guess that this would be difficult in a purely Lithuanian or Ukrainian context. What I find interesting is that we are fantastically similar to the Ukrainians! Working together was a joy because we raise a lot of questions, even in places where it seems like they shouldn't arise. We find our answers and move forward.
Viktor: It was actually amazing to discover how much we had in common, how many different "knots" there were tying together the experiences of two countries that seem different. What we found in common helped refine the topic and find the global aspects that make the post-Soviet problem become a post-totalitarian one.
Viktor, have you ever worked with a dramaturge when creating a dance performance before?
Viktor: When I was in the choreographic research and performance Master's program in Montpellier, I had a great brief experience working with Bojana Bauer. However, this was my first time working in a team with a dramaturge for a production. It was a great experience working with Monika. It's a bit strange to use the word "dramaturge" for the work she does because it has nothing to do with drama. When I work in the studio as a performer and choreographer, I definitely work with the body, space, time, movement etc. but not just for their own sake. When we add movement, gestures, music, sound, clothes, props, lights, text and other media to it, that generates fields of reference and enters the audience's interpretive process. In this aspect, dance is very complicated territory. It's extremely hard to communicate with the audience in a certain pool when you avoid going into details to keep the performance open from dominating the audience and imposing certain narratives. I believe that the dramaturge's mission in dance is to carefully distribute the spaces of sense and those clouds of references in a way that would support the communication between performers, space, time, sound, lights, props, etc. and the spectator. Otherwise, it could easily become just a bunch of things and events collected in time and space. That could sometimes be part of the artistic goal, but it is quite limited in terms of communication. Even in such cases, however, there must be decisions on duration and a rhythm for the elements, parts and events to ensure that they produce something with meaning.
Monika: Before working with this project, I participated in dance dramaturgy training in Riga that refined my professional tools, opportunities and limits. I also greatly value the relationship between the performance, the creator and his ideas, the performers and the audience. The elements of the performance must be revealed or hidden in order to emphasize its idea. The dramaturge's task is to make it so that the performance is understood the way it should be as much as possible. This requires some work with the performers so that they would communicate certain accents. The dramaturge must see to the "triangle" between the performance, the performer and the audience and analyse their relationships and the changes in their relationships. If the result of the creative process could be known from the start, it could be reached very quickly. However, creators and performers create their results step by step, moving towards them during their practices. As a dramaturge, I must collect all of the ideas that arise during the process and try to make sure that they can be seen in the final performance.
At what stage are you currently in the performance's idea formation process?
Monika: From the very beginning, we decided that we don't want it to be a show. Rather, it will be a ritual – perhaps a fabricated, charlatan, playful one. Something should happen with both the performers and the audience. We are currently creating material for the elements of the ritual. We are working with the dancers' internal conditions and their physical expressions. In the end of July, I will leave for a residency in Kiev to work with a video and audio artist. We'll see what influence they have on the performers.
Regarding the future of the performance, we hope that the performance will be relevant not just for post-Soviet countries, but elsewhere as well. The problems it covers are indeed universal. When we began analysing our topics of interest at the beginning of the process, one of the societal manifestations of the post-Soviet legacy that we identified was the desire to please, to use all of your personal resources to please someone who has power. That's how we came up with the name #LetMePleaseYou.
How do you think this performance will look in the context of the contemporary Ukrainian dance scene? Will #LetMePleaseYou be an exceptional project?
Viktor: It's hard to call the contemporary dance scene in Ukraine a "scene." It's more like some artists and some artistic activities. There are lots of commercial entertainment events that barely have anything to do with contemporary art. We have quite a dynamic youth scene that has a lot to propose and to say but they don´t have access to any infrastructure. Very young artists don't really have many opportunities to meet the audience and develop their skills. What's a shame is that many of them give up to go make money on cruise ships, leaving the country and never coming back, or work on commercial stuff to survive and try to scrape resources together to make room for their work. Speaking of performances, there are very few pieces of work with developed themes, and I totally understand why. Making well-crafted, thought-out, defined, presentable, well-produced and communicative pieces takes time, space, the minimum conditions for the body to keep warm, and of course money. We love what we do but we need to pay the bills. I cannot dance for my landlord to pay the rent or for electricity. It could be a nice artistic provocation but it could work maybe once, and even then I'm not sure it would.
To return to the place of #LetMePleaseYou in this context: It's not the first or most exclusive, brand-new or whatever piece of its kind. It's not. I would rather call it a very ambitious and large contemporary dance production in Ukraine that will be quite provocative and very specific. It is already extremely rich and complex in terms of the content. It's also important that it is being created with respect to the needs of all of its participants.
Monika: What I really liked when working with Viktor and Danil was that they did everything with their own hands. We start all of our work by bringing our own linoleum, laying it out and cleaning the floor. These are the ethics behind their creative work and their perspective.