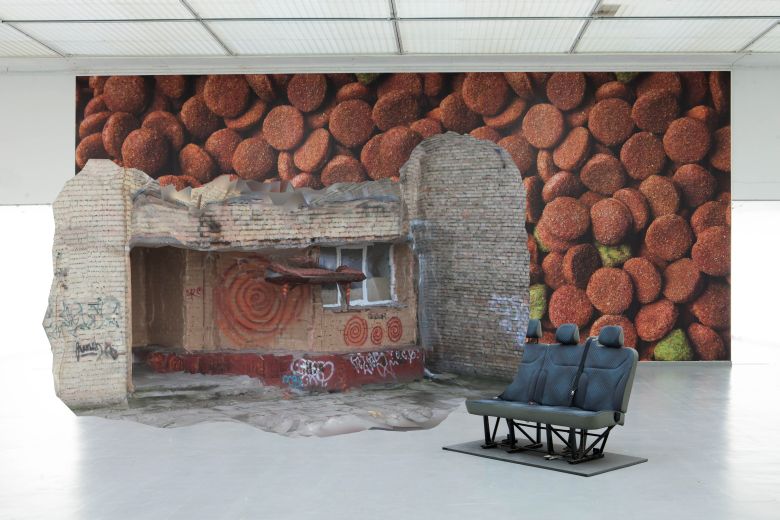 Robertas Narkus's (born 1983) creative activity depends on a strategy of perpetual limitlessness. He initiates and stimulates artistic, scientific, business and management strategies into original incidents, performance projects, and creates objects and installations collaboratively. Narkus identifies himself as a co-founder of the Vilnius Institute of Pataphysics, and Autarkia, a day care centre for artists, the experimental engineering camp eeKūlgrinda and Vizionierius, a platform for artist and private business cooperation.  Analytic projects, which encompass contrasting spheres of interest – scientific representation, contemporary technical engineering, the role of (the artist's) labour in the current economy, clearly demonstrate a search for chains of logic and at the same time an effort to sever these chains.
The artist describes his practice as a 'management of circumstances in the economy of coincidences.'  In 2012, he developed an on-going project called 12/5 šanso / The 12/5 Chance and subsequently described it in a 2014 publication called Aplinkybių vadyba / Management of Circumstances. Narkus's first solo exhibition at the Contemporary Art Centre in Vilnius (2017) was a commentary on the expansive options made possible by current technologies and technological advancements – artificial intelligence and augmented reality.  It analysed our current posture, which brims with both enthusiasm and pessimism, and is directly related to developments in science, technology and economics.
He graduated from the Vilnius Academy of Arts in 2006, and the Sandberg Instituut in Amsterdam in 2015. Recently, he has participated in group shows at the Stedelijk Museum and De Appel in Amsterdam, Stroom Den Haag in The Hague, établissement d'en face in Brussels.  He has had solo exhibitions at the Contemporary Art Centre in Vilnius, Juliette Jongma Gallery in Amsterdam, and at the Tenderpixel Gallery in London.  In 2014, he was awarded the Young Artist Prize by the Ministry of Culture of the Republic of Lithuania.