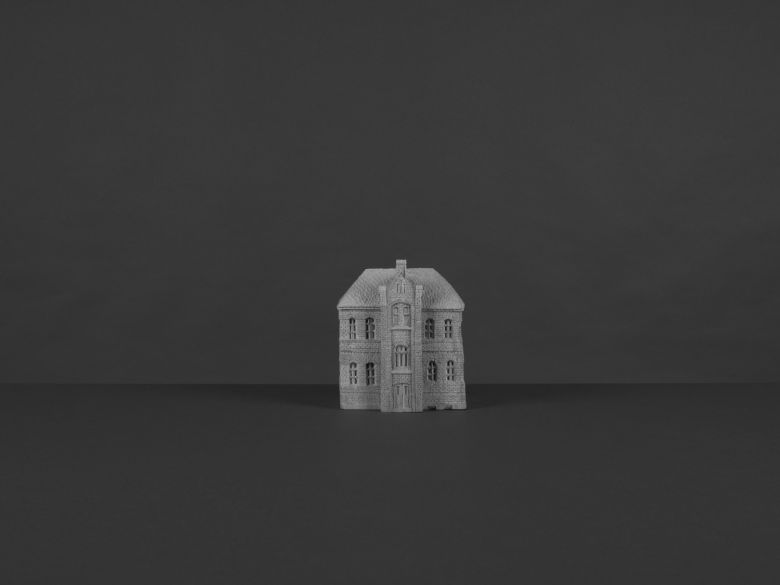 Indrė Šerpytytė (born 1983) works primarily with photography, but also employs archives, film, and audio. She considers documentary media a mode of expression for emotional and ancestral memory. In her work, she explores issues of history and trauma.  By analysing actual incidents from World War II, the Cold War, the decades of Soviet occupation or even the Syrian conflict, she seeks a universality of comprehension.  Of import are such concepts as how the past affects the present, the ways in which the political influences the personal, and the workings of memory.
The series 1944-1991 (2009-) depicts buildings in Lithuania that were used by the Soviet secret services, including the KGB. From declassified government records, Šerpytytė developed an archive of the buildings and then photographed them in their original location, and later gave the photographs to a traditional woodcarver who made models of the buildings. Finally, Šerpytytė photographed the models in black and white. The austere presentation of the resulting images and the numerous steps involved in the process present a capability to bypass the traumatic shock of the original and to actualize a relationship with a historical object in the present.
The Pedestal Series (2016) compares the past and present by contrasting archival images of statues of Lenin and Stalin, once situated in grand public spaces that now are on display in a 'nostalgia' theme park, and analyses aspects of historical mockery and extraction from historical context. In addition, Šerpytytė has recently started to examine other international sites of trauma and their media representation, focusing in particular on 9/11, the conflict in Syria and ISIS propaganda films, analysing the aesthetics of events extensively publicized in the media, as an essential aspect through which we recognize these historical tragedies.
Indrė Šerpytytė studied at the University of Brighton and the Royal College of Art in London. Recent solo exhibitions include: Still House Group in New York, the Museum of Contemporary Art in Kraków, Ffotogallery in Cardiff and the Association of Photographers in London. She was invited to participate in group exhibitions at the Museum of Modern Art in New York, Tate Modern in London, Museum Folkwang in Essen and the National Gallery of Art in Vilnius.