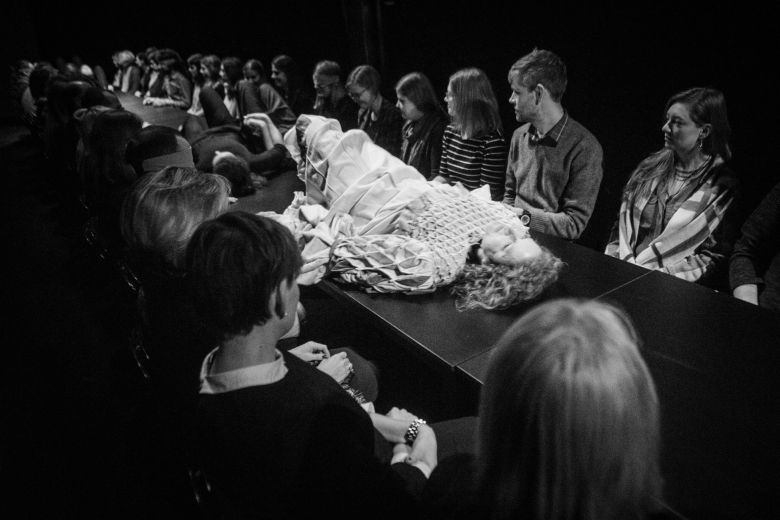 Karolina Žernytė (born 1986), a puppet theatre actress and a director, is the initiator of 'theatre of senses' in Lithuania. She studied puppetry at the Lithuanian Academy of Music and Theatre, from which she graduated with a BA in 2010, and an MA in 2012. Between 2010 and 2012, she worked as a puppeteer at the Kaunas State Puppet Theatre.
She first appeared on the professional stage as a director with a play for blind people and sighted audiences Tales of a Bee for Six Senses (Bitinėlio pasakos šešiems pojūčiams, 2010), and since then she has been creating stage plays-experiences based on sensations and the senses. This young director has already staged 12 theatre of senses productions, and several educational programmes based on the senses. In addition, she regularly leads creative workshops on the theatre of senses, not only in Lithuania, but also abroad (the Czech Republic, Italy, South Africa, Germany, and elsewhere). Her productions have been shown in Estonia, Holland, France, Russia and Germany.
In 2015, she founded the Theatre of Senses, for which she continually creates new sense-based performances. The method she discovered for creating theatre for blind people, or rather to speak through drama that is not visible but felt, has not only won her numerous awards, but has also enabled blind theatregoers to experience the art of the theatre, while at the same time allowing fully sighted audiences to understand the possibilities of a synthesis of the senses and the imagination.
In 2015, Žernytė received the Borisas Dauguvietis Earring award from the jury of the Golden Cross of the Stage, for her original and innovative work. The same year, she was recognised with the Dalia Tamulevičiūtė Prize for her production Stone Water Sting (Akmuo, vanduo, geluonis), and the Young Artist Award from the Lithuanian Ministry of Culture. She has been a member of the Culture Council of the Lithuanian Association for the Visually Impaired since 2014.
The theatre of senses production Primordial (Pirmapradis, 2016), staged at the Lithuanian National Drama Theatre, was inspired by Carl Gustav Jung's ideas about the conscious, the subconscious and archetypes. By touching, through various objects, smells, sounds, costumes and whispers, or simply by being next to a blind member of the audience, the actors create a myriad of experiences for blind people. The tactile journey takes audiences from dreams to memory, from a play to fantasy, and from introspection to psychoanalysis. Everything depends on what associations, memories and visions are provoked by the sensations offered and created (or recreated) here. The most important element is to trust the leading hand, and let oneself go on a meditative inner journey.