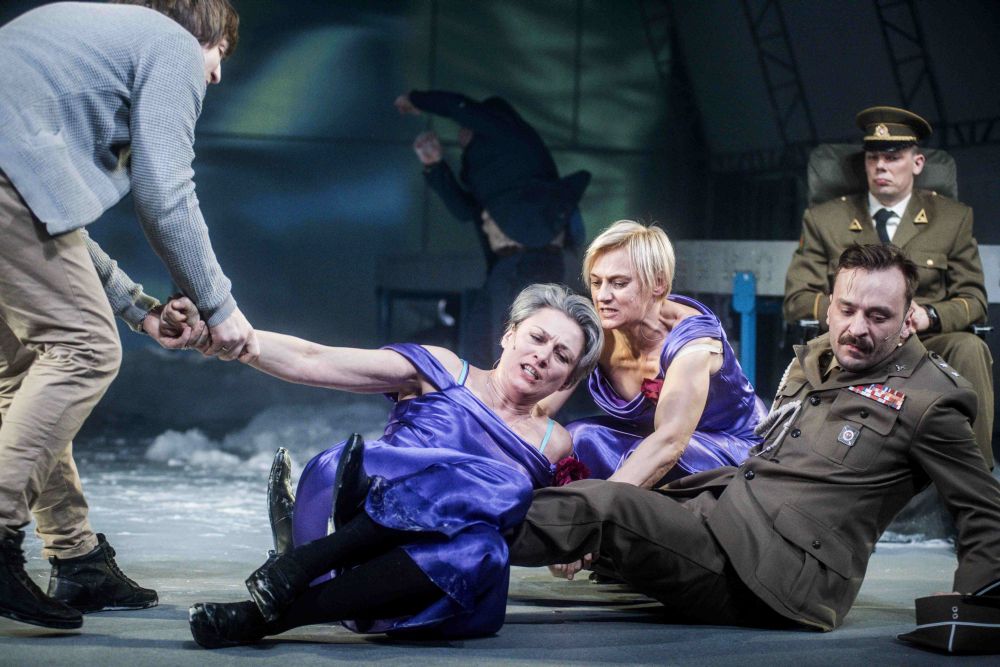 Yana Ross born (1973), a director who creates theatre on an international level, grew up in Latvia, spending her childhood between Europe, Russia and the USA. She studied at the Russian Academy of Theatre Arts in Moscow between 1991 and 1992. In 1995, she received a BA in mass communications from Quinippiac University in Hamden, Connecticut; and in 2006, she graduated from the Yale School of Drama, where she is a PhD candidate. After her studies, Ross taught theatre-related subjects, and worked and directed in New York and Berlin. She has made experimental films, and directed the television programmes for 'ParisPremière', 'E! Entertainment', HBO. Ross has put on productions in the USA, Japan, South Korea, Russia, Germany, Poland, Finland, Sweden, Iceland and Norway.
Ross came to Lithuania in 2006 on a Fulbright scholarship. She first appeared on the Lithuanian stage in 2007, with the productions Bambiland by Elfriede Jelinek (at the Lithuanian National Drama Theatre, a co-production with the OKT/Vilnius City Theatre) and Lucy Skates (Liučė Čiužia), a play by the Lithuanian dramatist Laura Sintija Černiauskaitės (OKT/Vilnius City Theatre). During the last decade, she has created over ten drama and opera productions, and directed play readings. She is currently staging plays in various theatres in Scandinavian countries.
In her interpretations of classic and contemporary works, Yana Ross always conducts thorough artistic research, seeking to tap into the heart of the piece, which she connects on stage with the present day and the historical and social context in which her works appear, whether it be Lithuania or Iceland.
In 2014, Ross received the Golden Cross of the Stage award for her staging of Our Class (Mūsų klasė) by Tadeusz Slobodzianek. In 2015, she was recognised as the best director in Sweden for her staging of Anton Chekhov's Uncle Vanya at the Upsala Theatre, followed by an award for best directing in Iceland for her interpretation of Chekhov's The Seagull at the Reykjavik City Theatre. That same year, she won the best director prize at the Kontakt International Theatre Festival in Torun in Poland.
The latest work she directed in Lithuania, Chekhov's Three Sisters, offers an interpretation of this play that is particularly unusual for the Lithuanian stage, which has a long tradition of staging Chekhov's work, and brings the play out of the early 20th century and closer to the current geopolitical situation. General Prozorov's home turns into a hangar for war planes, Russian soldiers become Nato forces, and the periphery of the Russian Empire becomes a rural region in Lithuania. The production reveals the relationships between people who are thrown together, and with the threat of war in the background, raises questions of identity being formed and lost.