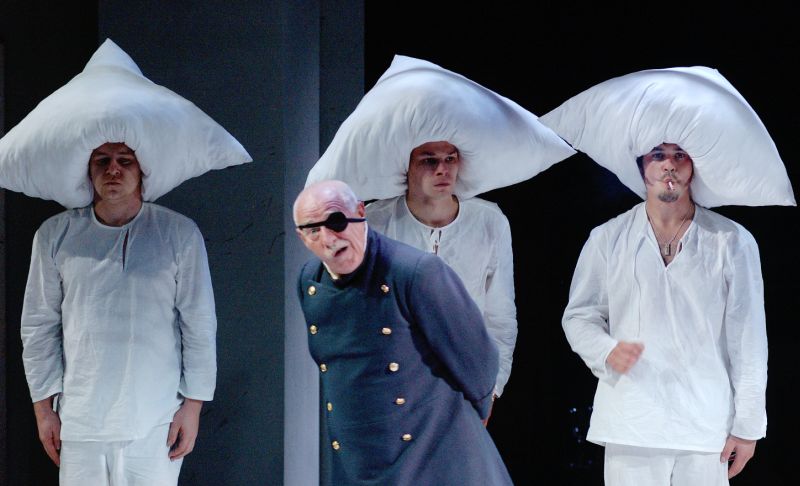 The director, teacher and National Prize winner Rimas Tuminas (born 1952) graduated from the Lithuanian State Conservatory with a degree in television directing in 1974, and from the Lunacharsky State Institute for Theatre Arts (GITIS) in Moscow with a degree in directing in 1978. In 1990, along with a company of like-minded actors, he founded the Vilnius Small State Theatre, and continues to work as its artistic director. The theatre has taken its plays to twenty or so countries. Many critics consider the special ability of the company work as a tight ensemble to be a distinguishing characteristic of this theatre. Between 1994 and 1999, Tuminas was the director of the Lithuanian National Drama Theatre, and in 2007 he became artistic director of the Evgeny Vakhtangov State Academic Theatre in Moscow.
Tuminas has staged more than 40 plays in various theatres, both in Lithuania and abroad. A large part of his work consists of productions based on Russian classics, especially the plays of Anton Chekhov. His productions are a unique mix of life and theatre: everyday life slowly and imperceptibly becomes poetry, while the drama assumes a soft irony. Perhaps the best example of Tuminas' work is Masquerade by Mikhail Lermontov (1997), which shows a theatrical playfulness of the imagination, combining tragedy with delicate humour.
Tuminas has won national prizes in Lithuania, Iceland and the Russia Federation, and has been awarded the Commander's Cross of the Order of Grand Duke Gediminas of Lithuania, and the Order of Friendship from the Russian Federation. His productions have garnered numerous national and international awards, including a Golden Mask in 1998 and 2011, and the International Stanislavsky Theatre Award in 2010 and 2012.
Tuminas always provides a fresh view of the classics. When he chose to look at childhood in his Three Sisters (2005) by Chekhov, what became most important was the decline of family values and culture. The production is full of features characteristic of Tuminas' work: a theatrical playfulness, as well as a youthful and inspiring beauty. Its tragic side is formed in the present, while we come to understand its fragility and its relentless transformation by means of the past.
The play Mistras (2010) by Marius Ivaškevičius is a continuation of the collaboration between the playwright and Tuminas which began with Madagascar (2004), which won international acclaim not just from critics but also from audiences abroad. Mistras also offers an unconventional view of historical figures, such as Adam Mickiewicz, Honoré de Balzac and George Sand. In addition to these aspects, the issue of what the Lithuanian national identity and the need for a hero is questioned.

www.vmt.lt