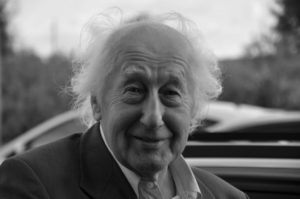 Henrikas Algis Čigriejus (1933-2016) published his first poems in 1977. He wrote poetry for several decades, sweet, nostalgic verse about rural life, the beauty of nature and the little spot on the face of the earth that is a human being. In spite of themes that sound rather old-fashioned to a 21st-century reader, his poetry is truly some of the most beautiful Lithuanian literature, in the purest sense of the word. He has never been interested in major issues or problems, always merely describing the world in a grain of sand, we could say. In the 1990s, quite unexpectedly, and at a late age, he published his first collection of novellas, and three more followed. While many critics observe that his prose is as lyrical as his poetry, the novellas, which are very often losely based on childhood memories or later experiences of a long and loving life, are so charged with bitter-sweet nostalgia that they are quite sure to force a tear out of the more sensitive reader.
Varna braukia ašarą. Vilnius: Lithuanian Writers' Union Publishers, 2007. – 183 p.
This collection of novellas, Čigriejus' latest work, continues in a similar vein as his previous ones. Most of the stories are set in Saločiai, the author's village, in a region of Lithuania that has bread numerous poets. The stories often involve children, and a perception of the world through the eyes of children (which is completely out of proportion compared to that of grown-ups), their worries and troubles, their sensitivities, raw and naked, and not yet numbed by life. Other people in the novellas are also small: weak, unimportant, often troubled or sinful, but always kind, deep down in their hearts. From such a perspective, the world seems to be big and intimidating , but our close surroundings have a lot of tiny, but beautiful and good things in them.