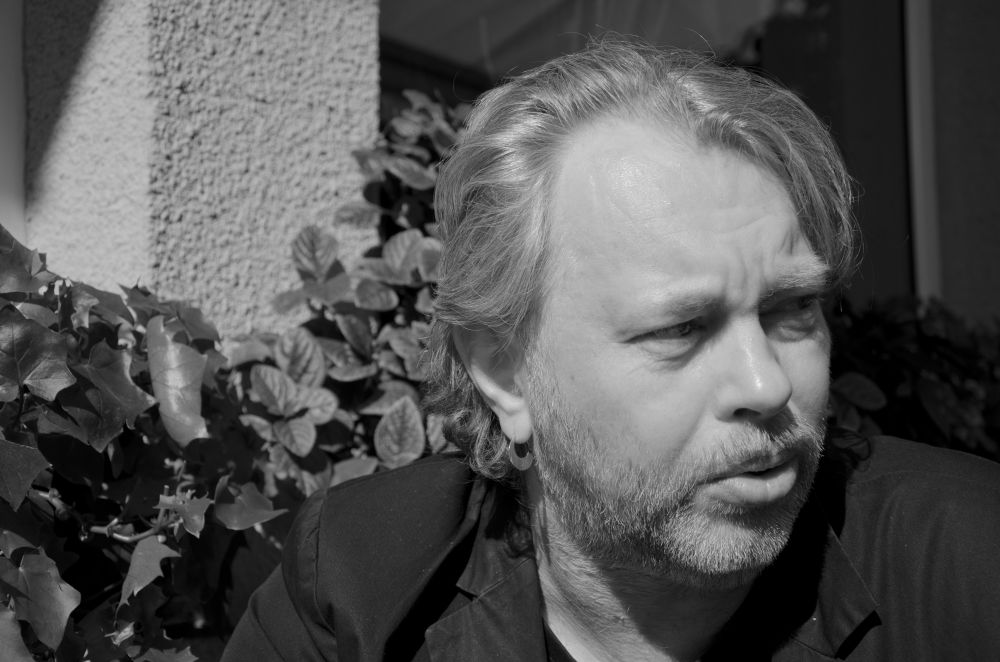 Herkus Kunčius (born 1965) is one of the most prolific Lithuanian writers, publishing a book or a play every year since his debut in 1998. His work, novels, essays and plays, is marked by postmodernist features and a scornful irony towards consumer society and its fake and superficial values. He often gives frank descriptions of bodies and bodily functions, and he is never afraid of blasphemy or indecency. His writing has been described as a 'carnival', and it clearly contains shock value, cruelty and nihilism. He is one of the few Lithuanian playwrights whose work is frequently put on in major theatres, and he has won numerous awards for them. His fiction is less acclaimed, but it always attracts the attention of serious critics.
Dviveidis romanas (A Novel with Two Faces, 2011-2014). Vilnius: Kultūros barai, 2015. – 242 p.
The two "faces" of this "two-faced novel" are two separate novels – Lietuvis Vilniuje (A Lithuanian in Vilnius, 2011) and Dervišas iš Kauno (The Dervish from Kaunas, 2014) – that do not follow the same story, but instead are connected by the setting, the epoch, and the style. The focus is on the transition from a Soviet citizen to a post-Soviet Lithuanian. The transition is obviously complicated, bordering on the absurd, and the crazy, often indecent antics of someone like Kunčius is a great medium to cover it. The novels are astoundingly detailed, to the extent of remembering prices of cigarettes from Soviet times, and that may be fascinating in itself. But even more valuable are political and social insights and commentaries, which often focus on elusive issues like the history and politics of monuments in the streets and squares of Vilnius, in which the author perceives the process of Lithuanian-izing the city.
---
Selected translations
Bulgarian: Минало многократно време. София: Факел експрес, 2015
Христоматия на пияницата. София: Факел експрес, 2014
Polish: Litwin w Wilnie. Wrocław: Kolegium Europy Wschodniej, 2014
Moja walka bambino. Białystok: Kartki, 2001
Russian: Прошедший многократный раз. Москва: Новое издательство, 2006
German: Ornament. Leipzig: Erata, 2005
Swedish: De forsvunna texterna. Lund: Ariel, 2003