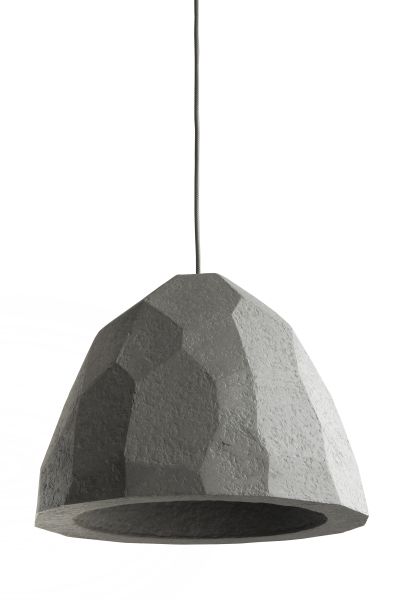 Ceiling mounted light fixture: Luitas
Created: 2016
Manufacturer: INDI design studio
At first glance, the sculptured form of this light fixture appears to have been cast from concrete or hewed from stone, but in fact it is made of recycled paper and weighs about 2 kg.  With its pleasant indirect light and acoustic absorption properties this fixture is eminently suitable for the dining or recreation room. The designer found inspiration for this light fixture in contemporary Italian architectural forms. However, the most important function of the Indi light fixtures is conservation and the use of obsolete or recycled materials.  In 2016, Luitas was awarded the Good Design prize.
The designer Simonas Tarvydas (born 1969) graduated in painting from the Vilnius Academy of Arts.  Tarvydas and his wife Justė Kubilinskaitė established Indi, their design studio, in 2014. The studio aims to create aesthetic and eco-friendly design objects.  Indi is the first studio representing Circular Design in Lithuania.  INDI REPAPER interior elements can be repurposed as raw material for other design projects. Thus, there is a continuous cycle of creativity and manufacture, inspiring responsible usage and the pursuit of progressive contemporary design ideas.