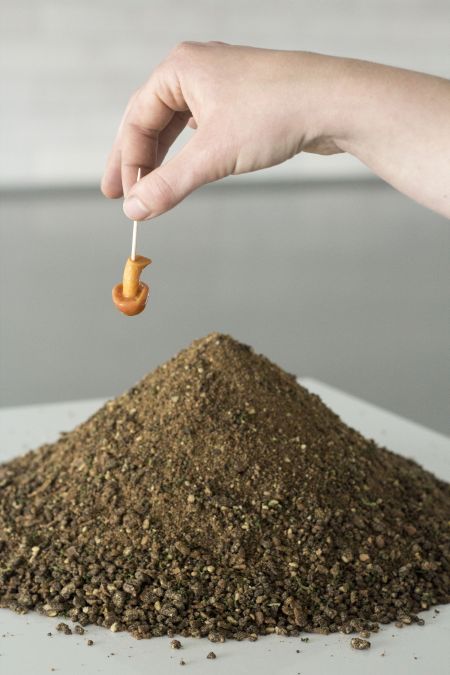 Mushrooms and Earth
Created: 2017
Design studio: Less Table
Honey fungus is planted on a dark mound formed out of crumbs of black bread. This is a glance at Julija Mazūrienė's (born 1979) food design installation inspired by the artist Darius Žiūra, and created for a celebration of the successful defence of his doctoral dissertation. The theme of the feast is almost an extension of the artist's project Forbidden Fruit (2010). The project challenges the boundaries between the edible and the poisonous, the legal and the forbidden, adaptation and separation, the conscious and the subconscious. The most important aspect in the design installation was the experience of participation, the opportunity to taste, as it were, forbidden fruits, to feel the taste of earth and its significance in our culture and daily life.
The designer Julija Mazūrienė completed her Master's studies in the Department of Design at the Vilnius Academy of Arts in 2004 and has been a lecturer there since 2004. Since 2014 she has been specialising in the new field of food design in Lithuania as a researcher and practitioner. It was thanks to her initiative that the Vilnius Academy of Arts Electrolux Laboratory of Food and Design was established, and a new discipline introduced in 2014. In 2015, she assembled a group of young experimental designers (including the designers Živilė Lukšytė and Ugnė Menkevičiūtė) and founded Less Table, a food design studio. The designer has also created furniture and interior designs, and received a number of prizes and awards, amongst them, the Good Design prize for the interior and visual style of a children's toy store (2016) and the Christmas2Business Best Business Christmas Gift award for An Edible Christmas Wreath (2017).