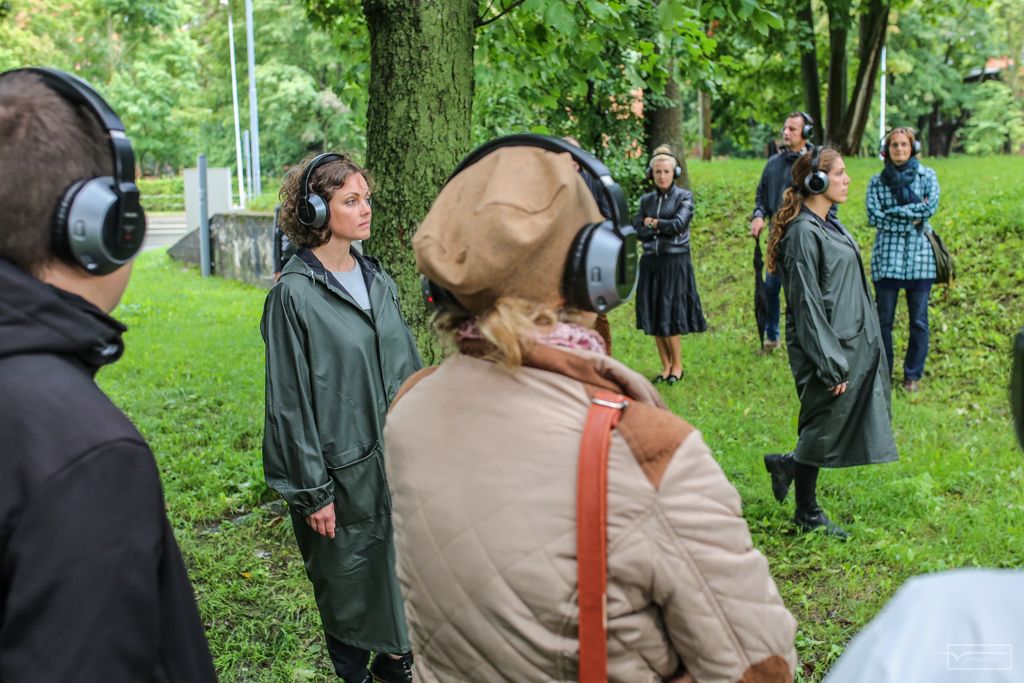 After gaining a BA in choreography and an MA in theatre studis at Klaipėda University, the choreographer Agnija Šeiko (born 1977) continued her studies in the Netherlands. She graduated in 2005 from a course in choreography at Codarts Rotterdam Dance Academy. On returning from abroad, she began to run the Klaipėda artists' collective Fish Eye, and to coordinate the annual international PLArTFORMA contemporary arts festival. Šeiko teaches in the Department of Choreography at Klaipėda University, and since 2010 she has periodically given seminars as a guest lecturer at Turku Academy of Arts in Finland.
In 2012, together with a team of like-minded peers, she established the dance company Padi Dapi Fish, which she has managed until now. The dance company has performed Šeiko's dance productions in Sweden, Norway, Germany, Russia, Iceland, China and the USA.
As well as her dance productions, such as In Signum 5 (2006), Happy Hours (Laimės valandos, 2007), La Mariée (2007), maProject (2009), Prayers of a Silly Girl (Paikos mergaitės maldos, 2010), No Space at the Parking Lot (Aikštelėje laisvų vietų nėra, 2012) and Dior in Moscow (2016), Šeiko also creates choreography for stage plays, operas and musicals: she has collaborated with the Klaipėda State Musical Theatre, the Klaipėda Drama Theatre, and the Lithuanian National Opera and Ballet Theatre, and participated in independent projects. She has created three productions in an unusual new genre, dance opera, in collaboration with the composer Jonas Sakalauskas: Izadora (2008, directed by Agnius Jankevičius), Wasted Land (2011) and Juliet's (2012). In creating her dance shows, Šeiko collaborates with artists working in different fields, and her works often employ the use of original music, sculptural installations, and video projections. Her creative work always surprises, with its ever-changing form, context, and the direction of her exploration. One common characteristic is that she chooses unexpected spaces and site-specific art forms. For example, some of her newest dance shows, Travelling Churches. Klaipėda Transit Memel (Keliaujančios bažnyčios. Klaipėda tranzit Memel, 2015) and Lucky Lucy (2016), are excursions through the city that transport viewers to a different historical and emotional time.
In 2010, Šeiko received the Young Artist Award from the Lithuanian Ministry of Culture, and in 2011 she won Klaipėda city's Mask of Gratitude theatre award. She has twice been awarded the main professional theatre award the Golden Cross of the Stage for best choreography: in 2009 for her debut (together with her creative team) in the mono-opera Izadora, and in 2013 for choreography of the year, for her dance show No Space at the Parking Lot (Aikštelėje lasivų vietų nėra). In 2016, she received the Borisas Dauguvietis Earring award for interdisciplinary creative output. That same year, the Association of Contemporary Dance honoured her with the title of Choreographer of the Year.
The dance show Lucky Lucy (2016) is a journey through urban spaces and people's memories, real and imagined, philosophical and mundane. The audience are given headphones with the soundtrack of the production, and then follow the choreographer duo Agnija Šeiko and Annika Ostwald (Norway) through streets and courtyards. Their movements are unexceptional; the choreographers lead each other and their audience along the route more with their gaze than their movements. The movement vocabulary of the show is concentrated and sensitive, as is characteristic of Šeiko; the movement sequences feature many simple everyday elements, which, when augmented, become choreographic ornaments. This international production has been performed in Sweden, Iceland, Norway and Germany, as well as Lithuania.