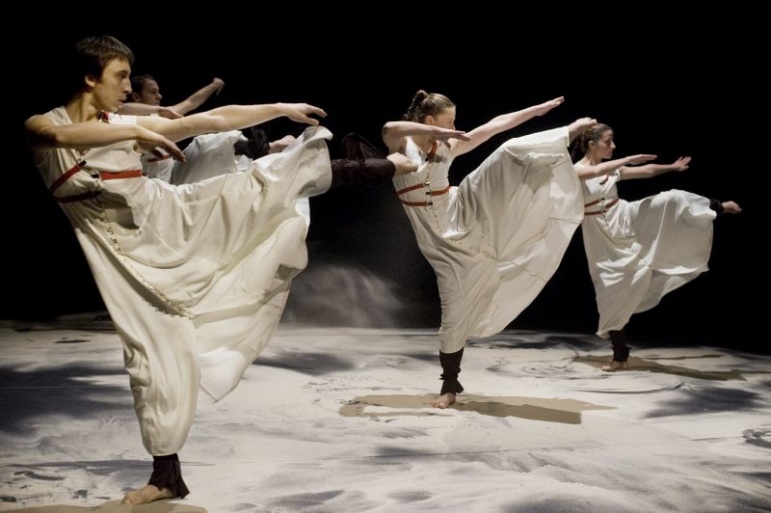 The dancer and choreographer Loreta Juodkaitė (1977) decided to combine two passions, and after studying stage design at the Vilnius Academy of Arts, she went on to graduate from the Salzburg Experimental Academy of Dance (SEAD) in Austria in 2005. In Lithuania, Juodkaitė debuted with the mono-productions Here and Now (2006) and Salamander's Dream. The Picture (2006), which quickly won her a Golden Cross of the Stage for debut of the year.
This independent dancer and choreographer has created more than a dozen dance productions and projects. In addition to the productions mentioned above, Trimatrix. Three Movements (2007) and Sybille (2008), which were commissioned by the Arts Printing House, were also particularly well received. A number of her productions have been shown on various stages and at international festivals, in France, Germany, Austria, Finland, Israel, Turkey, Armenia, Russia and Ukraine, while Salamander's Dream. The Picture has been shown at The Place in London. Her productions are characterised by a ritual-like quality and mature creativity, along with a distinctive language of movement. As a dancer, Juodkaitė is blessed with a unique plasticity, and has performed roles created not only by Lithuanian choreographers, but also by the French choreographers Rachid Ouramdane and Thomas Lebrun.
Juodkaitė, who regularly travels abroad as a choreographer and dancer, does not limit herself to the traditional dance scene, but has participated in a number of jazz and visual arts projects, and is the first Lithuanian choreographer to create a dance production that has been specially adapted to a urban environment. The production was called Dance in the City (2007).
In creating the dance production Prayer in the Sand (2009), Juodkaitė remained true to the main theme of her work, which is that she creates a dance as if it is a ritual. The production, which radiates heat, deals with the inner spiritual sun in people, so it is not technically precise movements that are important, but the unique and supple expression that is conditioned by the dancer's personality.