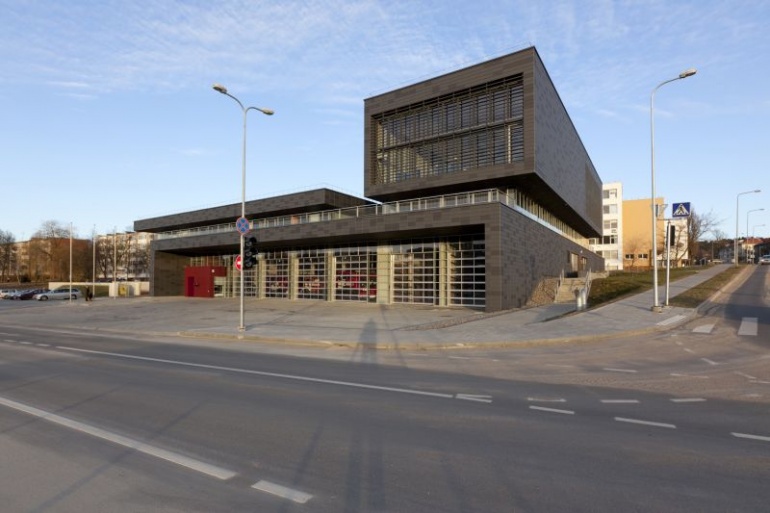 L&G Projects
Vilnius City Fire Service 6th Command Unit building. Category: special purpose
Preparation: 2008
Construction: 2012
Address: Petro Vileišio street 20A, Vilnius
Architects: Gintautas Vieversys, Laima Tumynienė, Adomas Šablevičius, Valdemaras Stupak, Dovydas Čipkus
---
The firm of Gintautas Vieversys and Laima Tumynienė began creating simple but eloquent architecture in 1994. The human factor and the relationship with the surroundings are one of the essential priorities of their work.
The architects incorporate the fire station in a sensitive and at the same time rather complex natural and urban environment. The architects searched for a balance between openness and restricted access. The natural colouring chosen for the exterior maintains the relationship between the building and nature, while the surrounding light-coloured structures form a background which emphasises its dark body.
The lower half of the building, which houses the fire service's quarters and garages, is arranged parallel with the River Neris; the boathouse is on the river bank. The dominant upper half of the building is used by the general assistance centre. Viewed from the surrounding buildings, the part of the building that is below ground and the green roof resemble a hill, and maintain a connection with the river. The green roof and the small sports field are a recreational facility for the staff, with the upper half of the building acting as a sound barrier. This building is probably the most mature project carried out by Gintautas Vieversys and Laima Tumynienė.