Architecture
Audrius Bučas, Darius Čaplinskas, Gintaras Kuginys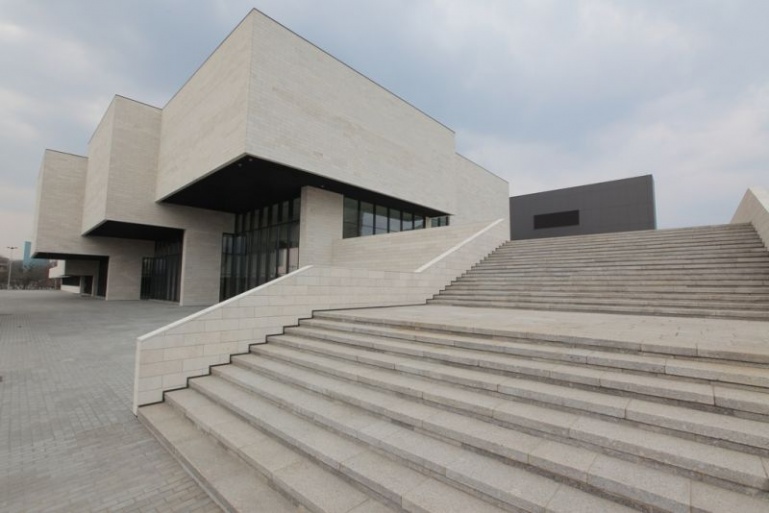 Renovation and extension of the National Gallery of Art. Category: public building
Design: 2004
Construction: 2004–2009
Address: Konstitucijos pr. 22, Vilnius
Architects: Audrius Bučas, Darius Čaplinskas, Gintaras Kuginys
---
An informal group of three architects engaged in creative collaboration among themselves and with other colleagues, has recently executed a good number of projects for well-known and well-visited buildings in Lithuania and abroad. Notable among them are the Lithuanian pavilion at Expo 2000 in Hanover in Germany, and the pavilion at Expo 2005 in Aichi in Japan. Members of the group actively participate in exhibitions at home and abroad, represent Lithuania in international projects, and collaborate with contemporary artists.
In renovating the National Art Gallery, the architects aimed for a respectful relationship between the Museum of Revolution of the Lithuanian SSR, built in 1980 (by the architects Gediminas Baravykas and Vytautas Vielius), and the new contemporary extension, adapting the functions of a gallery to today's needs.
While the renovation retained the plasticity of the façades of the modernist building, the internal spaces were fundamentally transformed. The direction of the flow of visitor traffic was changed, and a new hall for changing exhibitions was built. Two inclining black panels reminiscent of computer screens form a contrasting background for the monumental white spaces of the gallery, housing the administrative offices. The new exhibition space descends into the relief and is expressively suggested only by convex skylights. The artistic renovation did not destroy the identity of the old building and fitted in eloquently among the neighbouring commercial buildings.