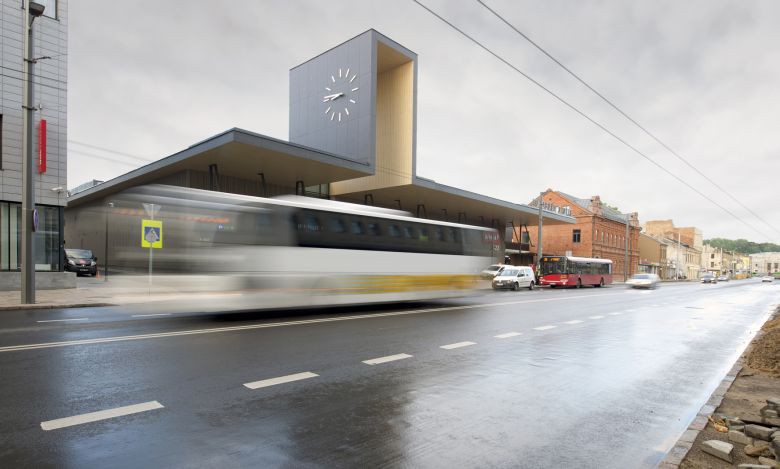 Reconstruction of the Kaunas bus station. Category: public building
Design: 2014-2015
Construction: 2016
Address: Vytauto pr. 24, Kaunas
Architects: Gintaras Balčytis, Jurgita Šniepienė, Kęstutis Vaikšnoras, Paulius Vaitiekūnas
---
This architecture office, established in 1993, is well known in the world of architecture in Kaunas. Dviejų grupė's 'creative design' principle often leads to witty and ironic designs. As though playing on the duality in the firm's name (Group of Two), the partners Gintaras Balčytis and Linas Tuleikis balance between pragmatic functionality and conceptual intrigue, but both emphasize how important context and the character of the location are to them. The partners do not limit themselves to design work; they each separately participate in the life of the architectural community, in the cultural field, organize events, seek to educate not only potential architects, but the public, too.
Recently, more and more public transport stations in Lithuania are being built as transit and commercial complexes where good architecture is not necessarily considered to be of primary importance. Perhaps this is why the idea to reconstruct the Kaunas bus station was met with discussions about the relationship between its important social function and the shopping centre that is being built there. Still, the Kaunas bus station is a nice exception that proves when trust is put in professional architects, a practical but simultaneously outstanding and original building is possible.
The new face of the station is the façade on Vytauto pr.  with its eye-catching 18-metre-high clock and cantilever roof that stretches the entire length of the street. The covered public space in front of the building is framed on one side by a landing leading down to an underground parking lot, and on the other side – a two-storey tsarist red brick building. The building, built in 1894 as the administrative centre of an iron foundry, later served as a temporary bus station. After the reconstruction, the arrival and departure platforms moved to the depths of the industrial architecture of Kaunas at Bažnyčios and Girstupio streets. It is gratifying that the architects' efforts to harmoniously approach a complex situation allowed them to create not only a contemporary gate to the city, but also a connection between local history and current demands.